Details

Category: World Football
Published on Monday, 28 October 2013 09:37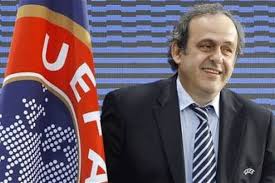 October 28 - UEFA president Michel Platini has warned that a planned strike by French clubs over the government's proposed supertax could backfire.
Professional clubs in France have decided to go on strike for the first time in more than 40 years in protest at the government's proposal to tax business incomes of more than €1 million at a massive 75%.
The clubs have unanimously voted in favour of boycotting fixtures scheduled for November 29 and December 2, the first walkout by French players since 1972 and affecting the two top leagues.
The supertax, due to kick in next year, is a campaign promise of French President Francois Hollande, earning the government an estimated €420 million but hitting football hard in a country where most clubs have been struggling financially, unable to compete with other top European leagues .

But Platini, arguably France's greatest ever icon as a player, believes the French public may not buy the move.
"Players who go on strike, with the salaries they earn, that's really going to go down well, isn't it? I'm pretty sure it's going to set some tongues' wagging," Platini was quoted as saying. "There are not many strikes which are understood by the public. Is that good or bad? I've no idea."
Contact the writer of this story at This email address is being protected from spambots. You need JavaScript enabled to view it.