Details

Category: World Football
Published on Monday, 09 June 2014 08:53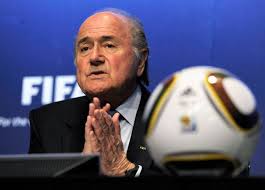 By Andrew Warshaw in Sao Paulo
June 9- FIFA President Sepp Blatter is to hold last-ditch talks with Palestinian and Israeli officials in the next 48 hours in an attempt to bring the two sides together to sign a symbolic memorandum of understanding at this week's FIFA Congress.
Late last month Blatter gave the clearest indication yet that he will not support Palestinian calls for sanctions against Israel at the Congress and has made finding a compromise between two political foes one of his main priorities.
The Palestinians claim Israeli security forces, who control movement between the Gaza Strip and the Israeli-occupied West Bank, frequently prevent athletes from travelling freely between the two separated territories, using bullying tactics in the process. The Palestine FA, led by Jibril Rajoub, has threatened to call for sanctions this week while Israel, by contrast, cites security concerns, countering that football facilities are sometimes used by Palestinian militants as a means to launch rocket attacks.
Following a meeting of its executive committee, a Fifa statement said Blatter was to hold "further meetings with all stakeholders" before the Congress "when the issue will be tackled."
But his task was made even tougher by a Palestine FA statement claiming its deputy general secretary Mohammed Amassi had been prevented by Israel from travelling to Brazil and Rajoub, has scheduled a news conference for Monday afternoon to update the media on the PFA's plan of action.
Meanwhile Fifa also announced, almost unnoticed, that South Africa, currently embroiled in the latest phase of a matchfixing inquiry, has suddenly quit as host of the under-20 Women's World Cup in 2016 – only seven months after being awarded it.
No replacement has yet been found but the withdrawal is another embarrassing blow to a country that promised a strong legacy on the back of hosting the men's World Cup four years ago.
"Following South Africa's withdrawal from hosting the event, the executive will appoint a new host at its next meeting in September," a Fifa statement said.
Contact the writer of this story: This email address is being protected from spambots. You need JavaScript enabled to view it.