Details

Category: News
Published on Sunday, 14 April 2013 18:33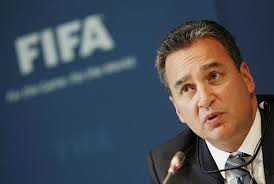 By Paul Nicholson
April 14 – FIFA's chief investigator Michael Garcia has been declared persona non grata and put on a 'black list' by the Russian government. He is one of 18 US citizens on the list who will be denied any entry to Russia.Garcia, who is central to the FIFA investigations into allegations of corruption, has yet to report any findings but is known to be looking into the ISL case and the 2022 Qatar World Cup award.
Subscribe now to read the full article
INSIDE World Football's news archive of more than 3,000 stories and columns is now available via subscribtion. Subscribers also receive the daily newsletter as well as at various times special offer discounts for conferences, books, and other services.
Subscribe to read the full article