Details

Category: News
Published on Sunday, 14 April 2013 18:33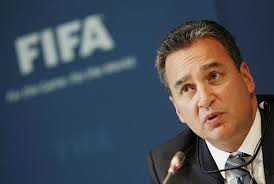 By Paul Nicholson
April 14 – FIFA's chief investigator Michael Garcia has been declared persona non grata and put on a 'black list' by the Russian government. He is one of 18 US citizens on the list who will be denied any entry to Russia.Garcia, who is central to the FIFA investigations into allegations of corruption, has yet to report any findings but is known to be looking into the ISL case and the 2022 Qatar World Cup award.
It appears Garcia's political past in the US has caught up with him. He was the lawyer in New York who had responsibility in the controversial arrest of Russian arms dealer Viktor Bout in Thailand in 2008 – Bout was extradited to the US in 2010 and tried and convicted on terrorism charges in 2010. He is currently serving a 25-year sentence.
The Russian foreign ministry's blacklist is in response to similar U.S. sanctions against 18 Russians.
Contact the writer of this story at This email address is being protected from spambots. You need JavaScript enabled to view it.