Details

Category: News
Published on Monday, 22 July 2013 12:03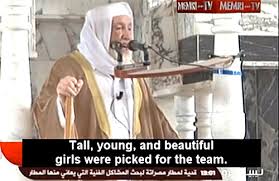 By Mark Baber
July 22 - The Libyan Football Federation (LFF) has stopped its Women's Team from participating in a tournament in Berlin, Germany, the organisers discovered as the team was due to fly in. The federation claims the reason behind the ban is to do with Ramadan, but the ban has been linked to threats and opposition to women's football from Islamic extremists.
According to the organisers of Discover Football, a football festival being held from 23-28 July and funded by the German government, they only found out about the LFF ban on Saturday evening and hope that contact with the players will remain.
The tournament, which is funded by the German Foreign Ministry, the EU and the German Football Federation, will include teams from Egypt, Jordan, Lebanon, Palestine, Tunisia, Poland, Ukraine and Germany and, according to its website, is dedicated to "gender equality, intercultural understanding and women's rights." The festival will include workshops on themes such as discrimination in football.
The Libyan Women's National Team was just getting to its feet and scheduled to participate in a tournament in March 2011, when the war broke out. The players have faced numerous obstacles since, including the stadium in which they trained being taken over by a militia and threats from Islamic extremists which have forced them to train in secret under armed guard.
According to the Guardian, Libyan Football Federation general secretary, Nasser Ahmed, gave the reason froi the ban as "It is Ramadan," adding, "We are not against women playing football."
There are no religious strictures preventing teams playing during Ramadan, and many tournaments ware arranged in muslim-majority countries during this period, including in Libya where, according to a report in the Libyan Herald last week "the Al-Ahly Tripoli Football Club is organising a friendly tournament, in the middle of the holy month featuring four Tripoli-based teams; Al-Ahly, Al-Wehda, Al-Shatt and Al-Tersana."
The Guardian quoted one player, El-Alabed, as saying the ban had shattered hopes that the fall of Gaddafi would bring social change. "Other teams can play [in Berlin], so why not us? If you could see the girls, when they were told, they were all crying."
The Guardian links the ban to threats by Islamic extremists and a televised sermon Sheikh Salim Jabar, perhaps the most influential preachers in the East of Libya, in which he demanded a women's team disband.
According to a MemriTV translation of a sermon televised June 7, Salim Jabar (pictured) said in relation to a team being set up at a university:
"Is it for youth who are failing in their studies? Or is it for outstanding youth? No, it is for neither. Tall, young, and beautiful girls were picked for the team. Just what our country needed ... a woman's soccer team.
Every day, I hope to hear on TV that from now on, anybody who drinks wine will receive 40 or 80 lashes, or that a fornicator – male or female – will receive 100 lashes, in accordance with the explicit word of the Koran.
Whose daughters are these? Are they the daughters of Jews, of Christians, or of Zoroastrians? Are they the daughters of heretics? Of Communists? It is written in their fathers' ID cards that they are Muslim. But today, these girls are exposing their heads.
Is this to be allowed? In a few months' time, they will be exposing their legs. The day they joined [the soccer team], exposing what should be hidden, these girls sold out their honour, and soiled the honour of their families with the filth of nudity and shamelessness."
The Guardian quotes the team coach, Emmad el-Fadeih, as saying the women have already complied with LFF rules to play in in head-to-foot blue tracksuits, that only unmarried women can travel to Germany, and then only if their father or guardian has given written permission.
Given the circumstances of the ban, FIFA could investigate the matter under Article 3 of the FIFA Statutes which states that, "Discrimination of any kind against a country, private person or group of people on account of ethnic origin, gender, language, religion, politics or any other reason is strictly prohibited and punishable by suspension or expulsion."
Contact the writer of this story at This email address is being protected from spambots. You need JavaScript enabled to view it.