Details

Category: News
Published on Friday, 06 December 2013 10:22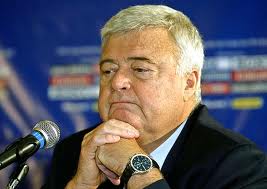 By Andrew Warshaw
December 6 - Ricardo Teixeira, the disgraced former head of Brazilian football and not so long ago one of the most powerful men in world football, has apparently been forced to abandon plans to seek refuge in the tiny tax haven of Andorra.
Teixeira has decided not to renew his residence permit, which ran out in mid-November, according to claims made by the local newspaper Diari d'Andorra, with authorities apparently uncomfortable with allegations of financial mismanagement that have swirled around the former FIFA powerbroker over a friendly between Brazil and Portugal in 2008.
Officially the Andorran government says Teixeira, who is based mainly in Miami but has a property in the principality bordering France and Spain, has not apparently fulfilled the requisite minimum of 90 days residence in the past year.
Andorra has no extradition treaty with Brazil, effectively putting the former FIFA executive committee member out of the reach of any potential Brazilian court summons.
In March, 2012, the former World Cup organising committee chief announced his retirement from all his football posts citing ill-health. Ever since 2000, he has been investigated for various alleged crimes, including tax evasion and money laundering, but no charges were ever brought in Brazil.
He was heavily implicated, however, in the infamous ISL scandal with the Swiss prosecutor's report revealing that, during his tenure on FIFA's exco, he and his one-time father-in-law, ex-FIFA President Joao Havelange, took more than $41 million in bribes in connection with the award of World Cup marketing rights.
Contact the writer of this story at This email address is being protected from spambots. You need JavaScript enabled to view it.