Details

Category: News
Published on Friday, 28 February 2014 10:00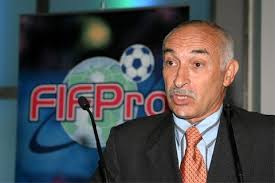 By Paul Nicholson
February 28 - World players union FIFPro has renewed its vehement criticism of the current transfer system following the latest FIFA Transfer Matching System (TMS) data which reported global transfer fees in 2013 of $3.72 billion, an increase of 41% on the previous year.
"Today, transfer fees are exorbitant and obscene. It's the system that permits this, just as it allows clubs to run with enormous deficits. It even authorises third party ownership to trade shares in a player, as is done in the world of horses. These trends must worry all those who are thinking about and preparing for the football of tomorrow, as they worry FIFPro," said FIFPro president Philippe Piat (pictured) in a statement.
"The transfer system is responsible for the inflationary bubble, denounced by all the parties, by everyone working to preserve the future of football."
FIFPro lays the blame to this at the door of the regulators and FIFA in particular saying that the transfer system is illegal because it abuses players' rights and creates an inflated and unsustainable labour market. FIFPro says the transfer system breaks the law on the basis of freedom of movement, competition law and human rights.
"We are waiting for the European Court of Justice to recognise or otherwise the validity of our complaint. We know we are in the right!" said Piat. "...We have exhausted our capacity for dialogue."
Both FIFA and UEFA have said that there needs to be a review of the transfer system which has distorted the labour market, with many observers linking – but not yet proving - the market to money laundering and tax avoidance. The attractiveness of the almost unregulated market for financial fraud is gaining increased interest from various governments and their anti-corruption investigators, especially in Europe.
Third party ownership of players has attracted the most attention, even though it is 'theoretically' illegal in Europe's largest football markets (see Pavel Tjusevs legal analysis at http://www.insideworldfootball.com/world-football/42-news/14018-tpo-threatening-aggressor-or-liberating-force-in-football-s-financial-structure?highlight=WyJ0cG8iXQ==).
The FIFA regulations on the status and transfer of players at article 18bis prohibit any third party to exercise any ''influence" over a club's activities in relation to its players. But the current regulation does not prohibit third party ownership in principle. FIFA has trod a careful course on the issue as what is reviled in its European confederation (though it is becoming increasingly prevalent in Eastern Europe), is standard practise in its South American federations.
FIFPro also highlighted the issue of non-payment of player wages which the players' union says is more widespread than has been reported and is expected to get worse. FIFPro General Secretary, Theo van Seggelen, said: "While the overall financial pie has reached an unprecedented level, non-payment of wages is rife across the game and we know a crisis is looming for the football industry.
"We see this trend developing on numerous levels through our vast experience of nearly fifty years in the game and the complaints received from of our 55 member unions worldwide who show us daily that the majority of professional players are denied their basic rights.
"Part of the problem is these are 'invisible' players, those who do not command the attention of the wider public, whereas in actual fact they are the front line of this battle. Their struggles are representative and symptomatic of the transfer system's core deficiencies."
Piat said: "Non-payment of players opens the door to corruption."
"A player who hasn't been paid, as commonly occurs in many countries in the former Eastern bloc, or in Africa or Asia, is much more easily manipulated. Those who organise match-fixing know this very well, and the examples of those players who are left adrift, and who end up being forced to fix matches, are unfortunately commonplace."
"But the footballer is not the only guilty party, if ever he was in any case: the club which doesn't pay him his wages is just as much to blame. But the player is often the only one taken to court, hounded and condemned.
"This system must be disputed one hundred per cent."
Contact the writer of this story at This email address is being protected from spambots. You need JavaScript enabled to view it.