Details

Category: News
Published on Friday, 07 March 2014 09:54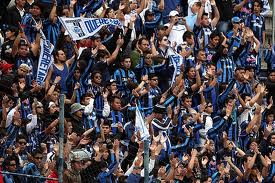 March 7 – Mexican top tier club Gallos Blancos de Queretaro looks certain to be caught up in a government investigation into a corporate money laundering. The chief executive of Oceanografia, an oil services company being investigated by Mexican authorities, is the owner of the Gallos Blancos.
The club is on the brink of being seized by the government who have already taken control of Oceanografia. An anonymous government official told Reuters: "Queretaro will be taken control of, I'm not sure when, but it will be taken control of."
The investigation by the Mexican authorities began after US bank Citigroup said it had uncovered $400 million in fraudulent loans at its Mexican subsidiary Banamex. So far there has been no confirmation or detail that the football club has been part of any money laundering activity.
Banamex had made the loans as advances against payment due to Oceanografia for supposed services to state-owned oil giant Petróleos Mexicanos (Pemex). Several of the receipts were later found to be suspicious, and are currently pending a revision by Pemex's accountants.
Citigroup is facing an investigation by the FBI and the U.S. Attorney's Office for Massachusetts, which prompted the attorney general of Mexico to launch its own investigation of Banamex and Oceanografía.
The Mexican government has said it is investigating Oceanografia for money laundering.
The government has already taken control of Oceanografia, "to preserve records" and may have to take out a bank loan to keep the company afloat and keep paying a staff of around 11,000 people.
Taking control of Gallos Blancos is reckoned to be inevitable as the investigation deepens. After nine rounds of the current season the club lie 13th in the 18-team Clausura.
Contact the writer of this story at This email address is being protected from spambots. You need JavaScript enabled to view it.