Details

Category: Africa
Published on Wednesday, 01 May 2013 12:18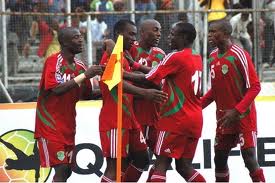 By Mark Baber
May 1 - FIFA have given clearance to Malawi to play their two upcoming 2014 World Cup qualifiers, against Namibia and Kenya, at the Kamuzu Stadium in Blantyre, following an inspection by Adnan El Guindy on April 21.
The Kamazu stadium was closed in August 2012, after cracks appeared in some of its main stands, but has recently been used for club matches. For the crucial qualifiers some of the stands will not be used, with the capacity being reduced to 17,000.
Malawi's interim coach Edington Ng'onamo was keen to use the Kamuzu Stadium which was decribed by his predecessor Kinnah Phiri as "our slaughtering home to all visiting teams". The stadium benefits from an artificial pitch, installed as part of FIFA's GOAL programme, made from Xtreme Turf, manufactured and installed by ACT Global Sports.
Ng'onamo explained: "In recent years Malawi has done well using the artificial turf at Kamuzu stadium and so we feel Malawi stand a better chance of winning against Namibia and Kenya in June if the games are played in Blantyre."
"Our players are more used to the artificial turf than any other pitch in the country and at the same time our opponents struggle at the Kamuzu Stadium due to the nature of the pitch.
Since 2008 Malawi have won 11, drawn 2 and lost just twice at the Kamuzu Stadium. The Flames currently sit level on points with Nigeria at the top of Group F with games coming up against Namibia and Kenya on June 5 and 12 respectively, before travelling to Nigeria for the last qualifier in September.
Contact the writer of this story at This email address is being protected from spambots. You need JavaScript enabled to view it.