Details

Category: Africa
Published on Monday, 24 June 2013 12:57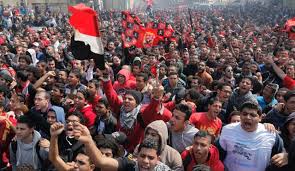 By Mark Baber
June 24 - Al Ahli fans stormed Cairo's military stadium this weekend against the backdrop of demonstrations held by Islamists in favour of president Mohammed Morsi and in a possible foretaste of anti-Morsi demonstrations planned for June 30 , the first anniversary of Morsi's inauguration, which aim to force new elections.
Al Ahli fans played a key role in the overthrow of President Hosni Mubarak and have opposed the military and Muslim Brotherhood-led government of President Mohammed Morsi. The political nature of football in the politics of the country was underlined recently when the Muslim Brotherhood indicated they would be putting up candidates for board elections to Zamalek and other clubs.
There has been controversy over when to allow a return of fans to stadia after all fans have been banned from attending matches since the league restarted in February over fears of renewed violence after 74 supporters died in riots in Port Said last year.
This week the Ultra White Knights of Zamalek issued a statement saying: "We are giving you 48 hours; we are giving you a chance to stop suppressing and provoking us. Either we return to the stands or ... you will know what will happen soon."
Anti-Morsi group Tamarud ("rebel"), has collected 15 million signatures demanding the resignation of Morsi and it is reported that the "Black Block" of football supporters will act as a protection force for the planned "million man" march on the Presidential palace.
With increased violence probable, Hossam Ghali, the captain of Al Ahli rival Zamalek, was quoted by the club's official website as saying: "I'm now considering leaving Egypt because of the ongoing political turmoil, which is seriously affecting Egyptian football. It will be difficult to continue in Egypt under such circumstances."
Contact the writer of this story at This email address is being protected from spambots. You need JavaScript enabled to view it.