Details

Category: Africa
Published on Wednesday, 24 July 2013 12:41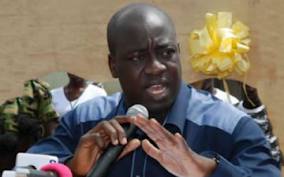 By Mark Baber
July 23 - A week after an emergency meeting between the Nigerian Minister of Sports, Bolaji Abdullahi (pictured) and board members of the Nigeria Football Federation (NFF), the League Management Company (LMC) and Nigeria Women Football League (NWFL), doubts are being expressed about the feasibility of the measures promised by the Sports Minister, which included paying players the money they are owed and instituting a minimum wage.
The crisis in Nigerian football was highlighted by reports that players from a women's team in the capital - FCT (Federal Capital Territory) Queens - had not been paid for 18 months, were living in poor conditions and were resorting to prostitution and begging to support themselves.
A new report on ChannelS has highlighted the plight of another women's team - the Ibom Angels - who have been on half salary since January. Only those who make the first team have been provided a feeding allowance and due to the management's failure to pay the electricity bill the team hostel has no electricity or running water.
On Monday the FCT chapter of the Sports Writers Association of Nigeria, (SWAN) issued a statement condemning new plans by the Federal Capital Territory Administration (FCTA) to disband the FCT Queens, which is the only female team in the territory saying the plan indicates the authorities do not have the interest of the welfare of the youth of the territory at heart.
Whilst the Sports Minister insisted a minimum wage of N150,000 would be implemented for players in the Nigerian Professional League, the clubs have reportedly not been briefed about how this can be achieved. Indeed, according to former Chairman of the Nigeria Premier League (NPL), Davidson Owumi, speaking to The Guardian, even the directive that the Nigeria Football Federation (NFF) should ensure that all football clubs participating in various football leagues in the country pay the backlog of salaries owed players is not implementable as "all clubs in this country, in all leagues, both the amateurs and professionals are owing their player's salaries."
According to Owumi, it is necessary to attract higher sponsorship for the leagues. Current Premier League sponsor, Globacom, issued a statement on Monday praising clubs participating in the Glo Premier League for their professionalism and continuously abiding by the rules of the game.
However, the task of developing viable clubs in Nigeria, which are not dependent of local authorities and which are attractive to sponsors is made all the more difficult with clubs failure to pay players, match-fixing scandals and governance issues concerning high level administrators.
Contact the writer of this story at This email address is being protected from spambots. You need JavaScript enabled to view it.