Details

Category: Africa
Published on Thursday, 25 July 2013 11:31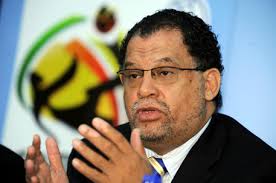 By Mark Baber
July 25 - South African Football Association (SAFA) vice-president and respected anti-apartheid activist Dr Danny Jordaan has been appointed to serve as advisor to Confederation of African Football (CAF) president Issa Hayatou.
In a letter to Jordaan CAF said, "We wish you all the success in your future activities within CAF and the CAF President looks forward to conducting a very constructive and successful collaboration with yourself."
Jordaan, who led South Africa's unsuccessful bid for the 2006 FIFA World Cup and successful bid for 2010, said: "I am humbled by this great honour of being an advisor to the CAF President. It is more pleasing because I am now serving both CAF and FIFA in the same capacity. I want to contribute positively in making sure that our CAF President, Issa Hayatou leaves a lasting legacy especially on international football."
At the CAF congress earlier this year Jordaan failed to win a seat on the confederation's executive committee for a four-year term, much to the disappointment of the wider football world and to many on the African content.
Jordaan led the South African organising committee for the 2010 World Cup and is a widely respected football administrator worldwide who many, including those within FIFA, could bring some healing to an often dysfunctional confederation. South Africa hosted the African Cup of Nations this year and is generally the best equipped country within CAF to host major tournaments.
At the CAF Congress in May Jordaan argued that CAF was being increasingly dominated by the French-speaking nations, with 83% of the executive being Francophone. His appointment as adviser will go some way to redressing the balance if his voice is heard.
In an interview Jordaan stated his main aim as being "to help develop the game, the under 15, the referees, the facilities. That's where my heart lies. We have to get away from these political discussions."
Contact the writer of this story at This email address is being protected from spambots. You need JavaScript enabled to view it.