Details

Category: Africa
Published on Monday, 05 August 2013 12:27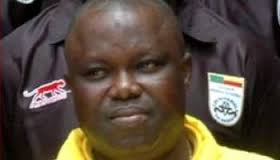 By Mark Baber
August 4 - Anjorin Moucharafou, hugely experienced football administrator, former president of the Benin Football Federation (FBF) and a current member of the Confederation of African Football (CAF) executive committee, has been imprisoned, along with Cécile Houssou, the former FBF accountant, accused of mismanagement of sponsorship funds.
The imprisonment came two days after Moucharafou decided not to stand for a third term as head of the FBF, in the interests of football in Benin.
Anjorin Moucharafou is accused of the misappropriation of $650,000 (R6.5m) of funds received under a 3-year contract for sponsorship of the national team signed with mobile telecoms company MTN in November 2007. The contract gave the telecoms company the rights to use the marks and logos of the 'Squirrels'.
In 2009, Moucharafou and Cécile Houssou were summoned on the same charges and were arraigned before a court in July 2011 and remanded in custody at the Cotonou Civil Prison.
The legal saga has led to a split in the Benin FA, with Moucharafou, who is a strong ally of CAF President Issa Hayatou, receiving backing from FIFA and CAF after 12 of the 15 Benin FA executive committee members resigned and a parallel football body was set up.
Contact the writer of this story at This email address is being protected from spambots. You need JavaScript enabled to view it.