Details

Category: Africa
Published on Wednesday, 21 August 2013 12:12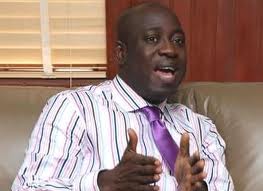 By Mark Baber
August 21 - Nigeria's League Management Company (LMC) has secured a $34 million television rights deal for the Nigeria Professional Football League from satellite broadcaster Supersport.
The deal was announced at a press briefing in Abuja in the conference room of the Minister for Sports. Present were Bolaji Abdulahi (pictured) the minister, Aminu Maigari, President of the Nigeria Football Federation; Felix Awogu, Country General Manager, SuperSport and Nduka Irabor, Chairman of the LMC.
The four year deal, which will cover the rights to televise the league in Nigeria and the whole of Africa will start in 2015, but some funds will be released before then to help the League overcome its cash crisis and to consolidate the position of the LMC.
According to Irabor: "It is important here to add a sweetener. They are willing to add some of these monies in advance. So for every year starting from this year, they will give us $2 million in advance, that's about 320 million naira. We can rule the league very well now."
Bolaji Abdullahi said that "our own generation of the NSC and NFF are not fighting; we are making money for football. Most importantly, (this deal has shown that) the sponsoring company and the football management body can do this without any middle. For me, that is major significance of what we are celebrating today."
Abdullahi praised Aminu Maigari for "making this happen" saying: "The NFF President can now confidently anywhere blow his trumpet because he has a trumpet to blow. The reason is that when we were struggling with what to do with the league he supported genuine cause and argument that the domestic league should be repackaged which is now yielding positive dividend."
The Ministry of Sports and Nigeria Football Federation (NFF) will act as guarantors for the contract with Irabor saying it will not start until 2015 in order to allow Total Promotions which signed a contract with the now defunct NPL, run out its existing contract.
Although full details of the contract and its precise status remain unclear, SuperSport locally have recently declared their objective to assist the Nigerian football league to become the biggest in Africa and one that can compare favourably with the best leagues in the world.
Awogu said: "To achieve this, we have consistently lent our support to the Nigeria Football Federation (NFF) and Nigeria Sports Commission (NSC) through training of sports administrators. In the recent past, we have taken club managers and sports editors to Germany to understudy the German Bundesliga, which is arguably the best-managed league in the world, and evolve a policy for the growth and development of our own league."
Contact the writer of this story at This email address is being protected from spambots. You need JavaScript enabled to view it.