Details

Category: Africa
Published on Wednesday, 28 August 2013 12:09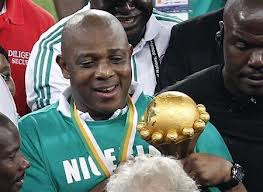 By Mark Baber
August 28 - FIFA has confirmed it has received an official complaint from the Football Association of Malawi (FAM) after Nigeria coach Stephen Keshi called Malawi's Belgian national team coach Tom Saintfiet "a white dude who should go back to Belgium," in a radio interview.
The receipt of the complaint was confirmed by FIFA to BBC Sport. FIFA have said they will issue no further comment at this stage.
FAM's general secretary Suzgo Nyirenda said: "We feel the racist remarks by Mr Keshi are not acceptable...We thought it was a personal attack on our coach and we had to defend him regardless of skin...We felt we should help our coach and at the same time put a stop to the racist remarks from Mr Keshi. We have sent evidence of what Mr Keshi said and we hope FIFA will come up with some measures to control Mr Keshi."
Keshi's comment came in a radio interview after one of the radio presenters told him Saintfiet had written to FIFA asking for the upcoming Nigeria-Malawi game to be relocated from Calabar in Cross River State on safety grounds.
Stephen Keshi responded by saying: "The coach of Malawi, I think, is crazy. I have never used any words like these to any coach. ...He has no right, who is he?
"If he wants to talk to FIFA, he should go back to Belgium. He is not an African person, he is a white dude, he should go back to Belgium."
Speaking to website Supersport, Keshi defended his comments in recent days, saying: "I was just standing up for my country when someone tries to make insinuations that it is not a safe place."
Keshi claimed: "I have nothing against Saintfiet, he was in Nigeria recently and we shook hands and had a few things we discussed. I just was very unhappy that a man who last year was prepared to work for Nigeria with a four year contract can all of a sudden start to describe the place as 'unsafe' so am not having that."
Saintfiet is on record as saying: "If FIFA takes racism seriously, then you have to take it seriously in both directions. If a European said something of this nature about an African, you would have a huge problem. I am against racism in all directions."
Contact the writer of this story at This email address is being protected from spambots. You need JavaScript enabled to view it.