Details

Category: Africa
Published on Friday, 06 September 2013 12:19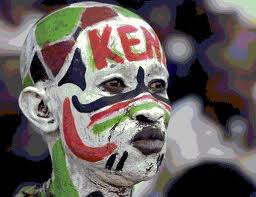 By Mark Baber
September 6 - Hours ahead of crucial World Cup qualifiers in Africa, a sponsorship deal has been signed between Crown Beverages and the Kenya national team, whilst Meanwood Properties and Zambeef Plc have come in to help pay for TV rights for today's game between Ghana and Zambia.
Keringet, a brand of Crown Beverages, the Kenyan subsidiary of South Africa's SAB Miller will be the "Official water sponsor" for the Kenyan National team and FKF Go TV Shield, after the company handed over a cheque for Kshs. 1 Million (£7,335).
SAB Miller has been described as a water profiteer at the forefront of efforts to privatise water policy and remove it from government control across Africa.
The deal comes ahead of Kenya's World Cup qualifier against Namibia on Sunday. SAB Miller Kenya marketing director Sheila Changangu said: "Keringet will become the brand that is enjoyed by the national team during the training period and qualifier matches. Football popularity has greatly increased over the years and every time our national team is set to play, the fans come out in their droves to support the team."
Meanwhile, ahead of the Ghana versus Zambia World Cup qualifier, Meanwood Properties has put in K100,000 (£800) and Zambeef Plc K70,000 towards the Zambia National Broadcasting Corporation (ZNBC) coverage of the game, allowing the K750,000 (£6000) required for the televising rights to be met.
Meanwood chairperson, Robinson Zulu said his company, which recently set up the Zambia's first private venture capital fund, had decided to help ZNBC for the good of the Zambian people who are passionate about football and the national team. Sports minister Chishimba Kambwili thanked the company for coming to the rescue of Zambian football fans.
Both sums are tiny in comparison to European deal, reflectiving the huge diufferences between football's 'haves and have-nots'.
Contact the writer of this story at This email address is being protected from spambots. You need JavaScript enabled to view it.