Details

Category: Africa
Published on Monday, 14 October 2013 12:01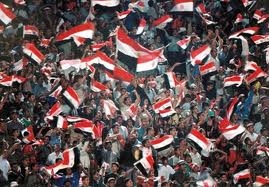 By Andrew Warshaw
October 14 - Egypt have been instructed by FIFA to provide security guarantees following Ghana's request to move next month's all-important and potentially volatile World Cup playoff in Cairo to neutral territory because of safety concerns.
Last week the Ghanians sent a strongly worded letter to FIFA expressing their fears over allowing the match to be staged in the Egyptian capital and FIFA have responded by giving the Egyptian Football Association an October 28 deadline to provide assurances that the second leg of the playoff tie between the two African countries will pass off peacefully.
Last month, the green light was given for Egypt to play their first international in Cairo for two years. Spectators have been banned from stadiums in Egypt since February 2012 when more than 70 fans died in the Port Said disaster. Two successive league seasons were called off and the Ghanaian FA noted that Egyptian authorities had barred fans from attending previous World Cup qualifiers against Mozambique, Zimbabwe and Guinea, all far less important games than the playoff fixture.
With both nations desperate to qualify for next year's World Cup, a game of cat and mouse seems to be unfolding, with FIFA trying to mediate. The Egyptians have already said there will be "heavy security" but how they can guarantee there will be no trouble, after all the political unrest and instability, is surely open to question.
FIFA have made it clear it will consider switching the venue for the November 19 fixture if they are not satisfied with the security plans.
"Although all our hopes and wishes sincerely expect that the security situation (in Egypt) will go back to normal in a definite manner we would need to consider alternatives in the event that this were not the case in November," FIFA general secretary Jerome Valcke wrote in a letter to both associations which was released by Ghana to reporters. "We will keep monitoring the situation."
Ghana host the first leg of the playoff on Tuesday in Kumasi and the Egyptian Football Association has already dismissed FIFA's letter as a mere formality.
Egypt Football Association spokesman, Azmy Megahed, was quoted as saying: "This letter is a routine procedure. A FIFA inspection team has already granted us its approval to stage the game at the Air Defence Stadium. The EFA will contact Egyptian authorities to get the necessary security assurances."
Contact the writer of this story at This email address is being protected from spambots. You need JavaScript enabled to view it.