Details

Category: Africa
Published on Tuesday, 19 August 2014 14:37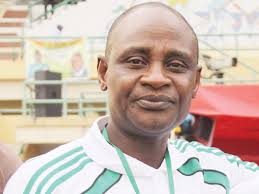 By Mark Baber
August 19 - Alhaji Aminu Maigari (pictured) was restored to his position as head of the Nigerian Football Federation (NFF) on Monday, after having been impeached, resigning and then having FIFA intervene on his behalf.
Maigari, who will now remain as President of the NFF in advance of the August 26 elections to the NFF Executive Committee, struck a conciliatory and optimistic note saying,
"There is no victor and no vanquished. We must all come together in the interest of the Nigeria game. We are all adults and we must have differences, but I am happy that those differences are now in the past and we are now of the same accord."
The dramatic turn-around in Maigari's fortunes came after FIFA Deputy Secretary General Markus Kattner wrote a letter to the NFF last week saying that his impeachment must be reversed. Maigari had reportedly resigned his post on Thursday but on Friday Nigeria's Sports Minister Dr. Tammy Danagogo, asked Maigari to return to the NFF office.
On Monday, Chairman of the NFF Media and Publicity Committee, High Chief Emeka Inyama issued a statement saying,
"We are one big family, as we have always been. There were disagreements and misunderstanding for a number of weeks, but FIFA has cleared the air and the Government has weighed in on the side of FIFA.
"In the interest of the Nigeria game, we have all resolved to bury our differences and rather work towards evolving a roadmap for the coming elections. There will be a meeting of the Executive Committee on Tuesday, 19th August."
Maigari will likely oversee the choice of a new head coach for the national team, but is understood to be unlikely to stand for re-election as he failed to submit his application form, leaving the way clear for a contest between Mike Umeh and Chris Giwa for the post of president.
Contact the writer of this story at This email address is being protected from spambots. You need JavaScript enabled to view it.