Details

Category: Asia
Published on Wednesday, 13 March 2013 14:59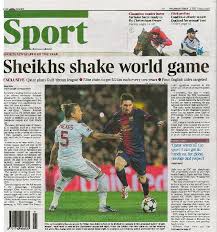 By Andrew Warshaw and Paul Nicholson
March 13 - A three-page newspaper scoop claiming that Qatar is planning to launch a groundbreaking 'Dream Football League' next month, featuring the world's most iconic clubs in a 24-team tournament that could ultimately rival the Champions League, has been dismissed as an elaborate hoax.
A source at the top of the Qatari football hierarchy said he knows nothing about this proposal and that there would be an official press release out shortly. He did, however, say that he had heard they were going to host a league where the Loch Ness Monster was going to star against some other well known 'celebrities'. For the avoidance of any doubt, this was said 'tongue-in-cheek'.
According to
The Times
newspaper the league would have started in 2015, backed by the Qatari royal family, and would have been held every other year - in odd-numbered years to avoid the World Cup and European Championship - in both Qatar and neighbouring Gulf states.
The newspaper said elite clubs such as Manchester United and Barcelona would be offered mindblowing prize money that would dwarf the Champions League, with 16 clubs becoming 'permanent members' and a further eight competing on an invitational basis.
Under the headline 'Skeikhs Shake World Game', the so-called exclusive was quickly picked up around the world. The Times reported that the event could be held in six cities across the Gulf in what would be an early acid test of Qatar's plans to provide air conditioned stadiums at the 2022 World Cup.
Within hours of
The Times
report being published, it became apparent that the source of its piece may have been a spoof article by French satirical website
Les Cahiers du Football
who admitted it was entirely made up. Several details were common to both stories though the author of
The Times
article defended his scoop, tweeting that
Cahiers du Football
was not the source. "I've been amused by the speculation about the source of this story," the author told Reuters. "I can guarantee you 100 percent, 1,000 percent, 175 million percent, that my story had nothing to do with any website, spoof or otherwise. I've no idea about their modus operandi. What I know is that my source is very good, the information is very good and that there is more where that story came from."
There was no immediate comment from Qatari authorities but a short time later the following statement was released. "With regard to the story published in today's edition of The Times newspaper concerning a 'Dream Football League', the Qatar Football Association and other Qatari football entities can categorically confirm that we have no involvement in any such initiative and have heard nothing to suggest such a concept is genuine."
The Gulf state has been spending billions of dollars upgrading its infrastructure and has been making concerted efforts at every turn to be taken seriously as a major football power. French league leaders Paris St Germain, who recently recruited David Beckham, are Qatari-owned while the Qatar Foundation sponsors Barcelona's shirts, soon to be replaced by Qatar Airways. Qatar has also staged a number of prestige international friendlies in Doha, the capital, while many top clubs including Manchester United have used the state-of-the-art Aspire sports academy facilities for winter training.
The Times
newspaper is steadfastly standing by its story. However, given the sensitivity surrounding the 2022 World Cup, it is perhaps far-fetched to believe that Qatar would have actively promoted such a league without first discussing with their partners at FIFA and within the confederations, particularly UEFA, who have been supportive of Qatar to date.
Contact the writers of this story at This email address is being protected from spambots. You need JavaScript enabled to view it. or This email address is being protected from spambots. You need JavaScript enabled to view it.