Details

Category: Asia
Published on Tuesday, 16 April 2013 11:15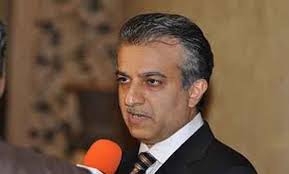 By Paul Nicholson and Mark Baber
April 16 - The leading candidate for the presidency of the Asian Football Confederation (AFC), Sheikh Salman Bin Ebrahim Al Khalifa, has been implicated in a series of human rights abuses in his home country of Bahrain where he is a member of the ruling Royal family. Insideworldfootball has also been provided with information allegedly linking him to a vote buying scandal orchestrated by the Olympic Council of Asia (OCA) in 2009 when he ran for AFC election to the FIFA executive committee against Mohamed Bin Hammam.
In the first of three articles, insideworldfootball reports on the information that has come into our possession.
Vote buying allegations
The 2009 AFC elections for the AFC seat on the FIFA executive committee were marked by a bitter war of words between previous friends Mohamed Bin Hammam and Sheikh Salman.
At the time of the election Bin Hammam accused Sheikh Salman and the Olympic Council of Asia (OCA) of buying votes. It appears the OCA is active again in the current elections, and again in favour of Sheikh Salman, as has been reported by insideworldfootball and referred to by other candidates standing in the election.
The OCA appears to be making bulk preparations for the AFC Congress in Kuala Lumpur with the reservation of hotel rooms, whilst Sheikh Salman has been accompanied by OCA officials on his electioneering travels.
In 2009 Jose Maria Martinez, then president of the Philippine FA, when questioned told a number of sources that his national association had received financial offers (as grants) from the Philippine National Olympic Council (NOC) in return for voting for Sheikh Salman.
He said his federation had rejected those offers allegedly made by Mark Joseph, deputy secretary general of the Philippine Olympic Council. Joseph denied the allegations when questioned at the time.
Senior officials within the Uzbekistan Football Association have also confirmed they were aware of the 'vote buying' scheme but that their association had not received any such offers.
Last week Youssuf Al Serkal, Sheikh Salman's main rival for AFC Presidency, launched his own media campaign in Dubai, attended by insideworldfootball, where he publicly made clear he was unhappy with the OCA's involvement in the May 2 presidential election in Kuala Lumpur. Whilst deliberately staying clear of pointing the finger squarely at any specific opponent, he told reporters: "I don't like one independent sports body interfering in the issues of another and I wish it wasn't like that. But it's a reality. The OCA are trying hard to influence the voting."
Human rights abuses
Evidence of alleged vote buying and human rights violations seem certain to cause huge embarrassment and awkwardness for Sheikh Salman when he holds a high-profile press conference in Bahrain later today at which he is expected to outline why he is the best man to lead Asian football into a new era of transparency and credibility.
But under Sheikh Salman's reign as head of the Bahrain Football Federation, players and officials have been subjected to a crackdown that has seen them arrested, often detained and in some cases tortured or humiliated on national television.
Sheikh Salman as head of the football federation has been implicated in the hardline pursuit of players who took part in the peaceful pro-democracy demonstrations or helped demonstrators (even providing medical aid).
Athletes and officials from the Bahraini football community were identified by Sheikh Salman's office from video footage shown to them by the Bahraini authorities. Many of the athletes had contacted their clubs and federation to find out whether they were allowed to participate and had been given the all-clear. Yet two players, Alaa Hubail and Sayed Mohamed Adnan, were both made to apologise on Bahrain TV and were detained.
They are just two of a number of players and officials arrested and detained in the crackdown starting in April 2011. Some were prevented for more than two months from being allowed visits from their families or lawyers. In all, clubs suspended more than 30 players and administrators including international referee Zakariya Ebrahim Ali.
Mohamed Hubail, another of the well-known players who suffered abuse, was put on trial in a military court after Bahrain declared the end of the state of "National Safety". He was arrested during training at the Al Ahli club on the 5 April 2011 and was put on military trial after two months of detention. He was then sentenced on 23 June 2011 to two years in prison for participating in a demonstration against the regime but released five days later following pressure from FIFA.
The Bahrain Center for Human Rights (BCHR) says that his brother, Alaa Hubail, was targeted not because of participation in the demonstrations only but because he helped treat the injured during an attack by the Peninsula Shield (a joint Gulf states armed force) on Sitra village on 15 March 2011. The attack effectively closed the village, preventing the wounded from going to the hospital to receive treatment.
The BCHR received testimonies from relatives of Alaa and Mohamed Hubail confirming that they were subjected to torture in prison. The Al Ahli club permanently suspended both players for their participation in the demonstrations. Alaa, Bahrain's leading all-time goal scorer, told ESPN in an interview:"They put me in a room for the beatings. One of the people who hit me said 'I'm going to break your legs'. "
On 27 June 2011 Bahrain TV aired a confession and apology by national team player Ali Saeed who had been under arrest since 5 April. He was released on 28 June without suspending litigation against him according to the military public prosecutor. Bahrain TV aired a series of confessions and apologies by leading players which human rights activists say were induced under torture. Most of them had denied all the charges brought against them in court.
Zakariya Ebrahim Ali was apparently suspended following a phone call from officials in the local referees committee which claimed that high-ranking authorities had ordered the suspension of anyone suspected to have participated in peaceful protests. He was called in for interrogation in the Department of Criminal Investigations in Adliya and was handcuffed and blindfolded until released.
More than two months later on 21 June 2011 he was called before a military court and accused of instigating hatred of the regime and demonstrating with a group that called for the overthrow of the regime.
But the head of Referee Affairs at the Bahrain Football Federation and the ex-international referee Abdul Rahman Abdul Khaliq Al Dolawer subsequently confirmed that Zakariya had in fact taken charge of three matches outside the country in the Asian Cup at the time the protests were ongoing. Zakariya was one of four Bahraini referees who were suspended, even though he could not possibly have participated in the demonstrations.

Contact the writers of this story at This email address is being protected from spambots. You need JavaScript enabled to view it. and This email address is being protected from spambots. You need JavaScript enabled to view it.