Details

Category: Asia
Published on Thursday, 25 April 2013 13:39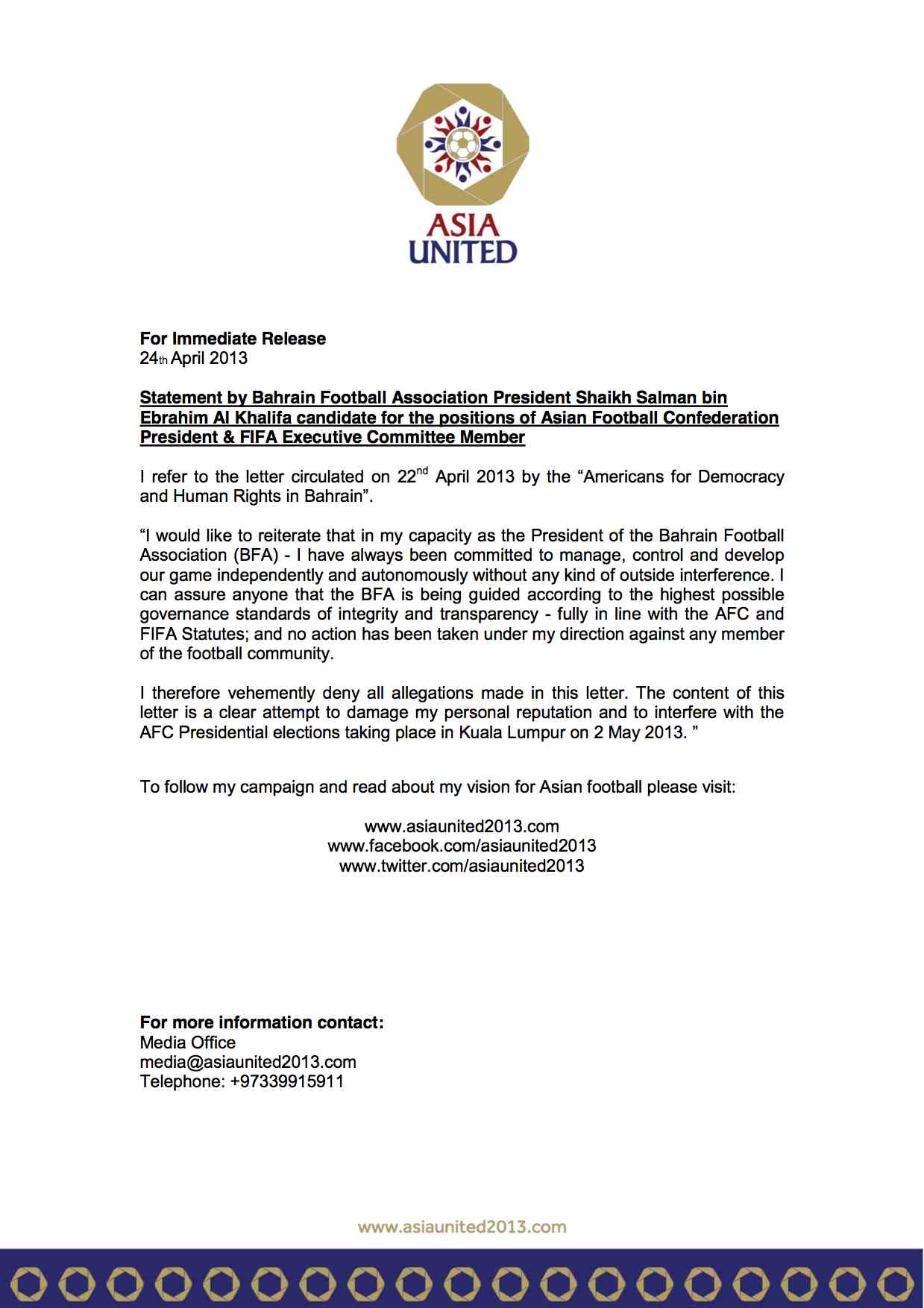 By Andrew Warshaw, chief correspondent
April 25 - A week ahead of the eagerly awaited election to choose a new leader to clean up Asian football, Bahrain's Sheikh Salman bin Ebrahim Al Khalifa is again having to fend off serious allegations of human rights abuses in his country.
InsideWorldFootball recently published a detailed report of the crackdown on footballers and officials who supported the 2011 pro-democracy uprising in Bahrain and also revealed direct interference in support of Salman by the Olympic Council of Asia in the upcoming ballot for Asian Football Confederation president.
Sheikh Salman issued a statement refuting this report April 19. (and published on this site).
Now Salman has been forced on the defensive again following a damning indictment by an American-based pressure group that is urging delegates next week not to vote for him.
Salman, who is lobbying fiercely in the final few days of campaigning, "vehemently" denies any suggestion of being involved in human rights violations.
In a letter to delegates attending the AFC Congress in Kuala Lumpur, Americans for Democracy and Human Rights in Bahrain, based in Washington, said delegates had a duty to elect "an individual whose ethics and integrity are compatible with the AFC's values. Unfortunately, the candidate from Bahrain, Sheikh Salman bin Ibrahim al-Khalifa, fails to meet those standards."
Citing many of the same examples of the abuses in the InsideWorldFootball article, the organisation lists a series of crimes against footballers who were persecuted in the brutal crackdown. "Under the direction of Sheikh Salman al-Khalifa, head of the Bahrain Football Association and member of Bahrain's royal family, football players were arrested, detained, abused, tortured, and publicly humiliated," the letter states.
"In the two years since the uprising began, life has been anything but normal for Bahrain's football players. The actions taken against Bahrain's football players by the Bahrain Football Association, led by Sheikh Al-Khalifa, are hardly credible, are devoid of integrity, and fail to respect the personal rights of the players. As leader
of the organization that led such abuses, Sheikh Al-Khalifa bears responsibility for what was done to these players. Yet, in response to recent questions about the arrest, detention, and abuse of Bahrain's football players, Sheikh Al-Khalifa abdicated any personal responsibility for the abuse. Sheikh Al-Khalifa's actions and attitude evidence a clear incompatibility with the AFC Code of Ethics.
"He should therefore be considered unsuitable for the position of AFC president. In light of the abuses inflicted upon football players under the leadership of Sheikh al-Khalifa, as well as their ongoing suspension from the sport, we ask that you make the right decision by choosing not to elect Sheikh Salman bin Ibrahim al-Khalifa to the position of president of the AFC."
Within hours of the letter being widely distributed to media organisations, Salman, who is also hoping to win a place on FIFA's executive committee in a separate vote next week, accused Americans for Democracy and Human Rights in Bahrain of "a clear attempt to damage my personal reputation" – the same kind of language used in response to this website's similar allegations.
In a statement he said: "I refer to the letter circulated on 22nd April 2013 by the "Americans for Democracy and Human Rights in Bahrain."
"I would like to reiterate that in my capacity as the President of the Bahrain Football Association (BFA) - I have always been committed to manage, control and develop our game independently and autonomously without any kind of outside interference. I can assure anyone that the BFA is being guided according to the highest possible governance standards of integrity and transparency - fully in line with the AFC and FIFA Statutes; and no action has been taken under my direction against any member of the football community. I therefore vehemently deny all allegations made in this letter."
Contact the writer of this story at
This email address is being protected from spambots. You need JavaScript enabled to view it.