Details

Category: Asia
Published on Thursday, 16 May 2013 11:21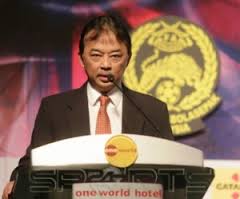 By Mark Baber
May 16 – A group of ASEAN sports ministers have tabled a plan to launch a joint bid to host the World Cup in 2034, according to the deputy president of Malaysia's football association and AFF member Tengku Abdullah Sultan Ahmad Shah (pictured).
Tengku Abdullah said he had been asked to head up a committee to oversee the bid process and that ASEAN sports ministers would be meeting on June 19 to discuss the bid.
"The proposal and draft are ready but we will look at other details before announcing the details of the meeting because 2034 is still a long way to go," he told Malaysia's National Press agency.
"I spoke to FIFA president Sepp Blatter regarding the bidding process and received feedback that the bidding will start eight years before the actual tournament.
"From what I've gathered," said Tengku Abdullah, "four to five countries will be involved. I think that based on facilities, we are definitely capable of hosting such a large event.
"However, we must have a good team. In 1997, we hosted the youth World Cup but did not have a team that could make an impact in the competition."
The statement was met with some incredulity by Malaysian press with one columnist, K Rajan, calling it "ridiculous" and arguing "the FA of Malaysia (FAM) can't even run the Malaysian league (M-League) properly."
Malaysia currently lies 161st in the FIFA World Ranking and recent games have included losses against Saudi Arabia, Qatar, Palestine and Iraq.
To date, no ASEAN country has qualified for the World Cup but the award of the 2022 tournament to Qatar will have given the region hope a bid might be successful.
The countries comprising the ASEAN federations are Brunei, Cambodia, Timor Leste, Indonesia, Laos, Malaysia, Myanmar, Philippines, Singapore, Thailand and Vietnam. The countries and sports ministers proposing the bid have not been named.
Contact the writer of this story at This email address is being protected from spambots. You need JavaScript enabled to view it.