Details

Category: Asia
Published on Tuesday, 11 June 2013 13:30
By Andrew Warshaw
June 11 -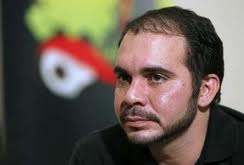 Prince Ali, head of the Jordanian FA, has had an increasingly influential and vocal role as a member of the FIFA executive committee and successfully championed the lifting of the ban on the hijab in women's football.
But he says he is happy with his current roles and will not put his name forward for Asian Football Confederation president when the post becomes vacant again in 2015 after the two-year tenure of recently elected Sheikh Salman bin Ebrahim Al Khalifa of Bahrain.
"I'm not planning to," Prince Ali told Fox News. "I've always said that, if and when elections come, we need candidates who have a programme, and they should be based on football alone, not zones or regions. What I want to do, is just to make sure the continent is unified."
A prominent figure at the recent FIFA Congress, Prince Ali sounded a cautionary note when it came to FIFA's reform programme that was rubber-stamped in Mauritius.
"It's moving, but the most important thing is to see where it's at with the next meeting," he said. "The reforms need to be implemented properly."
Prince Ali admits his personal crusade to lift the ban on women footballers wearing the Islamic headscarf had been "a tough campaign".
"But the most important thing is that everyone should be respected and be allowed to play as long as it's safe. I wanted FIFA to demonstrate their commitment to inclusiveness, and to remove cultural barriers."
Although the recent AFC presidential election was fraught with east-west division, Prince Ali says the idea of splitting the huge continent into two would serve no purpose. "If we talk about football, the more competition we have, the better it is for the continent," he said.
Contact the writer of this story at This email address is being protected from spambots. You need JavaScript enabled to view it.