Details

Category: Asia
Published on Thursday, 04 July 2013 12:12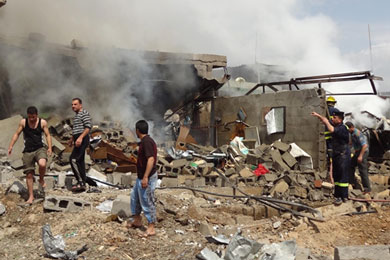 By Mark Baber
July 4 - FIFA have re-imposed its ban on Iraq hosting international friendlies following a surge in violence, including bombings aimed directly at players and fans. FIFA notified the Iraqi Football Association (IFA), citing over 2,500 deaths in violence from April through June and at least 123 people killed in the first three days of July.
"Today, we received a notification from FIFA to stop hosting any friendly matches in stadiums in Iraq at the current time, and until further notice, due to the wave of violence," IFA official Naim Saddam said. "This is regrettable."
FIFA had only lifted the ban in March, with a match then played on March 26 against Syria much to the delight of fans in both football-hungry countries. Fifa and Iraq hoped that would mark a key step in Iraq's re-emergence on the world stage after decades of conflict and sanctions. But such optimism was soon dampened by an upsurge in sectarian violence , with extremists stepping up their attacks on football-related targets.
In the last few days, a bomb inside a coffee shop in central Baghdad killed four young men watching an under-20s international match between Iraq and Chile on television (pictured above); roadside bombs killed three players near a stadium in Muqdadiya; twin blasts at a neighbourhood football stadium killed five players; eight people were killed at two cafes where they were watching another match; and in the Nahrawan neighbourhood of southeast Baghdad, a bomb went off as a group of under-16 youths were playing, killing nine and wounding 25 others.
Iraq had been slated to host the 2013 Gulf Cup of Nations before it was moved to Bahrain due to security concerns.
Contact the writer of this story at This email address is being protected from spambots. You need JavaScript enabled to view it.