Details

Category: Asia
Published on Friday, 12 July 2013 11:56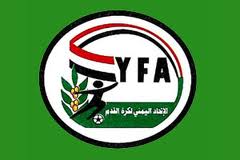 By Mark Baber
July 12 - Yemen's Football Federation has pulled its national football team from participation in foreign competitions for the rest of 2013 due to a financial crisis.
Abdulrahman Sharhan, a member of the federation, told Yemen's biggest English-language newspaper, the Yemeni Times, that the federation's debt, which stands at $4 million, should be paid by the Ministry of Youth and Sports and the suspension of activity is a way to pressure the ministry into paying.
Hamid Al-Shaibani the Yemen FA secretary, said the federation is contacting the Asian Football Confederation (AFC) and FIFA to apologise for the suspension and try to avoid sanctions but "The concerned authorities at the Ministry of Youth and Sport have not considered our demands."
The Yemeni Ministry of Youth and Sports declined to comment.
Yemen, who sit in 170th place in the FIFA ranking, have away games scheduled against Qatar on October 15 and against Bahrain on November 19.
In other news from Yemen, Sheikh Ahmed Saleh Issa Chairman of the Board of Directors of the Yemeni Federation is standing for election to the Executive Committee of the Arab Federation for Football scheduled to take place on the sidelines of a meeting of the General Assembly of the Arab Union in Jeddah, Saudi Arabia during the period July 14-15.
Contact the writer of this story at This email address is being protected from spambots. You need JavaScript enabled to view it.