Details

Category: Asia
Published on Tuesday, 23 July 2013 13:09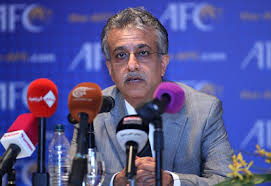 By Paul Nicholson
July 23 - The Asian Football Confederation has announced plans to create its own Ethics Committee that it expects will be operational by January 2014. An initiative of new AFC president Shaikh Salman bin Ebrahim Al Khalifa, he said he hoped that the committee will help fight AFC corruption at all levels.
Shaikh Salman won a landslide first-round victory to become the 10th president of the Asian Football Confederation on May 1, promising to lead Asian football into a new era of stability.
In his acceptance speech he said: "Now it is my personal duty to reunite our family. We need concrete reforms, steps that can be implemented and measured, an AFC where the decision-makers are accountable, for their actions, the decisions they take and the success of the result, which you can measure.
"We have to ensure that the AFC fund, which is your fund, is being managed to good principle...The AFC needs a strong president and a strong leader with necessary skill to take concrete actions. I would like to be your voice, your ambassador on FIFA's executive committee, restore the AFC's reputation, clean up the past and prepare for the future, restore transparency."
The new AFC Ethics Committee is viewed as a key step along this path and will be set up as a mirror of the FIFA ethics structure with a two-chambers – one investigative and one judiciary. The AFC executive committee, meeting in Manama, Bahrain, also agreed to adopt a stronger ethics code on a par with the FIFA Ethics Code.
The AFC has been riven with allegations of corruption, much of it at the highest levels with Sri Lanka's FIFA executive committee member Vernon Manilal Fernando, previously one of the continent's most powerful administrators, being banned by FIFA for eight years over unspecified unethical wrongdoing.
Thailand's FIFA executive committee member Worawi Makudi is also fighting a battle in his own country to retain control of the national federation leadership following various allegations of wrong-doing.
One of the biggest challenges for Asia is to effectively combat the match-fixing, much of which has its source in south-east Asian gambling rings.
At press time there were no details on how far the new AFC Ethics committee would go into the investigation of match-fixing or how the new structures would work with FIFA's own Ethics structures or whether they could both end up investigating the same complaints.
At present no detail has been released regarding the composition of the Ethics committee or whether the investigative function will be a permanent role, and what the balance between the investigation of internal governance and other football issues will be. However, these are still early days in terms of the establishment of the processes.
Separately Shaikh Salman praised FIFA President Sepp Blatter's efforts in resolving the issues faced by Palestine footballers. "FIFA has formed a task force, comprising FIFA President, UEFA and AFC Presidents and Presidents of Israel and Palestine Football Associations, to resolve the matter. The task force will meet on September 3," he said.
The election for the AFC presidency in May was a bitter and controversial process, not unlike the race for the presidency in 2009 which was won by Mohamed bin Haman, who subsequently stepped down following corruption allegations.
Shaikh Salman himself was bombarded with allegations of human rights violations in his native Bahrain in the build-up to the 2013 vote, and of colluding with the Olympic Council of Asia. Accusations that were reported by Insideworldfootball. (http://www.insideworldfootball.com/world-football/asia/12436-third-human-rights-body-calls-for-fifa-to-investigate-sheikh-salman?highlight=WyJwYXVsIiwibmljaG9sc29uIiwic2FsbWFuIiwicGF1bCBuaWNob2xzb24iXQ==). Shaikh Salman robustly refuted these allegations in a strongly worded statement. (http://www.insideworldfootball.com/world-football/asia/12364-statement-by-bahrain-football-association-president-shaikh-salman-bin-ebrahim-al-khalifa?highlight=WyJzYWxtYW4iLCJzdGF0ZW1lbnQiXQ==).
Contact the writer of this story at This email address is being protected from spambots. You need JavaScript enabled to view it.