Details

Category: Asia
Published on Monday, 29 July 2013 10:25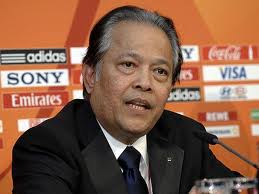 By Andrew Warshaw
July 29 - The domestic election crisis that is understood to have prevented acting Thai football federation (FAT) president and FIFA executive committee member Worawi Makudi from attending the recent Asian Football Confederation executive meeting has taken yet another twist.


Makudi, whose tenure officially ended in mid-June, is battling to hold on to his power base at home but the Local Administration Department (LAD), which oversees sport in Thailand, is reported to have made it clear that the new regulations he and his supporters want to put in place could be in violation of the national law.
Makudi says the reforms, which would slash the number of elegible voting members from 180 to 72 and are backed by FIFA, must take place before any new election for president. But his adversaries say the opposite and that he has no right to act unilaterally.
The LAD, asked for its advice, appears to have come down on the side of Makudi's opponents. In a letter to the FAT, it reportedly states the proposed regulations could breach both the civil and commercial law of the land as well as its constitution.
The letter apparently says that all FAT members, not just 72, should have the right to vote to elect the next President.
Thailand has already avoided being thrown out of world football over the issue after a tiny lower-league club which originally brought a lawsuit threatening to halt the election process agreed to withdraw its case.
But with FIFA outlawing government interference in football, the federation now risks another threat of expulsion which would heap even more embarrassment on Makudi, who is no stranger to controversy.
Makudi, 61, has been on the FIFA executive committee since 1997 but lost out badly in the recent AFC presidential election when he was promised unanimous support by the 11 members of the ASEAN Football Federation (Brunei, Cambodia, Indonesia, Laos, Malaysia, Myanmar, Philippines, Singapore, Thailand, Timor-Leste and Vietnam) but ended up seeing many of his so-called friends switch sides to vote for the eventual winner, Sheikh Salman of Bahrain.
Insiders suggested at the time that Makudi had too much baggage. Makudi has also been investigated by the authorities in his own country but was cleared by FIFA over accusations of mis-using development grants. Makudi was also associated with former AFC president Mohamed bin Hammam, whose resigned from the sport following the infamous 2011 cash-for-votes scandal.
Contact the writer of this story This email address is being protected from spambots. You need JavaScript enabled to view it.