Details

Category: Asia
Published on Thursday, 01 August 2013 13:27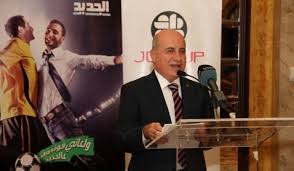 By Mark Baber
August 1 - Hashem Haidar was elected to his fourth term as head of the Lebanese Football Federation on Wednesday, winning votes from 49 of the 50 clubs attending. Haiddar's electoral list, which included 10 other members was elected unopposed so Raymond Semaan will retain his position as first deputy president and Ahmad Qameradine as second deputy.
With the position of secretary being appointed rather than elected for the first time, Issam al-Sayegh, chairman of Al-Safa, took over the reins from Jihad al-Chehaf, keeping the position in the Druze community. The football association unanimously approved both the federation's financial and administrative statements.
The accounts were approved with a treasury deficit standing at LL1.125 billion ($750,000).
Al-Khoyoul football club treasurer Ali Ayyash withdrew from the electoral session, after a heated exchange with Haidar following the federation's refusal to let Al-Khoyoul head Maisam Koumati, who has described Haidar as a "dictator", to run as a candidate on the basis that he had failed to hand over the fee required.
Under Haidar, Lebanon has enjoyed some success recently in World Cup qualifying, but football in the country continues to be riven by conflict and match-fixing as well as the case of three Lebanese referees detained in Singapore for accepting sexual favours.
With many clubs associated with particular religious or political groupings, in a country riven by sectarian conflicts, Lebanese football has been described by political scientist Danyel Reiche as "war minus the shooting".
Contact the writer of this story at This email address is being protected from spambots. You need JavaScript enabled to view it.