Details

Category: Asia
Published on Friday, 16 August 2013 11:58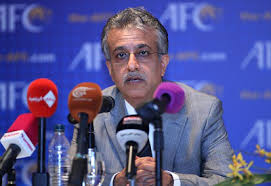 By Paul Nicholson
August 16 - Asian Football Confederation (AFC) President Shaikh Salman bin Ebrahim Al Khalifa has added his voice to the Qatar 2022 debate saying that he is confident that Qatar will host a "magnificent" World Cup, though a statement issued via the AFC media office stops short of entering the Winter vs Summer discussion, saying he is confident that FIFA will make the best decision for all.
The newly elected president, from Bahrain, has not always been so friendly to his Arab neighbours, having fought a bitter campaign against former AFC president Mohammed Bin Hammam in 2009 for a seat on the FIFA executive committee.
He lost that battle but won landslide victories both for the AFC presidency and a seat on FIFA's exco last May. The FIFA seat was won against other Qatari opposition in the form of Secretary General of the Qatar 2022 Supreme Committee Hassan Al-Thawadi, though this campaign had none of the aspects of the vitriolic battle fought against Bin Hammam. The campaigns fought for the presidency were less dignified.
Shaikh Salman has repeatedly stated that it is time for the AFC to heal its rifts and that this would be a core objective of his presidency. The statement on Qatar 2022 is clear support for the country and its right to host the 2022 World Cup, not just from himself but also from the AFC, saying that AFC will be ready to support its members in any way possible leading into this historical event.
The statement emphasises that this would be only the second time that Asia has hosted a FIFA World Cup.
"The AFC is confident that Qatar will host a magnificent World Cup; under the guidance of FIFA; and with it only being the 2nd time that Asia plays host to a FIFA World Cup – we are sure that Qatar will make Asia proud," he said.
Shaikh Salman also added: "Based on the performance and achievements of Asian nations in all FIFA competitions and the recent Olympics in both the male and female categories show that we are now world beaters and worthy contenders for any competition; and why not winning it in 2022 in Asia."
Contact the writer of this story at This email address is being protected from spambots. You need JavaScript enabled to view it.