Details

Category: Asia
Published on Thursday, 29 August 2013 11:42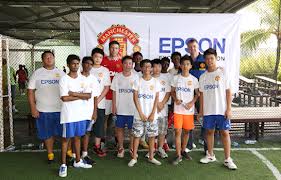 By Mark Baber
August 29 - Epson has agreed a three-year sponsorship worth S$1 million with the Football Association of Singapore (FAS). The partnership was launched at the Jalan Besar Stadium on Wednesday and sees the printer and projector manufacturer supporting the match-day experience of fans, the development of strategy for coaches and youth development.
Epson has recently installed two large display projectors at the Jalan Besar Stadium to enhance the match-day experience for football fans.
FAS President Zainudin Nordin said: "I am thrilled to welcome Epson aboard our football family. Epson is known worldwide for its commitment to excellence and innovation. This partnership will help us both fulfil this vision.
"I am pleased that coaches, players, as well as fans will benefit from this partnership. At FAS, we aim to provide the best environment possible to develop our young talents, and this partnership with Epson will help us do just do that. Epson has a long history of involvement with football, for example with the Asian Football Confederation and Manchester United, and we hope this experience will be able to assist our young talents in their pursuit of international football excellence."
Nordin added: "Under the three-year sponsorship agreement, Epson will provide FAS with the latest office equipment to aid the development of local football in many areas, which include but are not limited to new E-learning boards in the form of interactive projectors and stadium projectors"
Koichi Endo, Managing Director of Epson Singapore said, "Youth development has been an important area of focus for our CSR efforts and sponsorships in this region; and football, which builds confidence and teamwork in young people, is an ideal platform for our involvement. Therefore we are deeply honoured and grateful for this opportunity to assist in funding and applying our innovations to support the FAS in cultivating football excellence and nurturing Singapore's next generation of footballers."
Contact the writer of this story at This email address is being protected from spambots. You need JavaScript enabled to view it.