Details

Category: Asia
Published on Monday, 07 October 2013 12:04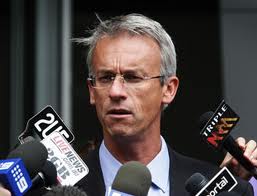 By Mark Baber
October 7 - With the Hyundai A-League season starting on Friday, Football Federation Australia forecasts a profit for its activities in the 2014 financial year due to an increase in broadcasting revenue and sponsorship.
FFA chief executive David Gallop said "We're forecasting a surplus for 2014 and for the first time we won't have a members deficit on the balance sheet."
The report in The Australian Financial Review (http://www.afr.com/p/lifestyle/sport/ffa_looks_forward_to_profit_1ZbkkQAGG7nYjUMYR89HuO) said the healthy forecast does not take into account potential profits from World Cup participation, or the sale of federation-owned ­Western Sydney Wanderers.
Gallop expects some progress on the sale of Wanderers before the end of the year, saying: "There's no urgency from our point of view, but we expect to have made a lot of progress in the next few months. And when we get the additional funds, we will need to make sure we use those funds wisely."
The A-League will be benefitting from a broadcast deal with Fox Sports Australia and SBS, the extension of the deal with the World Sport Group (which has sold A-League games to broadcasters in the UK and Italy) as well as sponsorship from retailer Harvey Norman.
However, the FFA is still looking for new sponsors for the Socceroos to replace Qantas.
Contact the writer of this story at This email address is being protected from spambots. You need JavaScript enabled to view it.