Details

Category: Asia
Published on Monday, 14 October 2013 12:31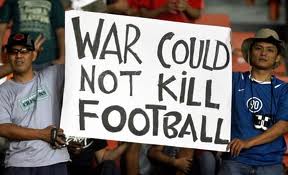 By Andrew Warshaw
October 14 - Iraq's bid to overturn a FIFA ban on playing home internationals has won the conditional support of their confederation as the dispute over the country being stripped of hosting the Gulf Cup escalates.
Last week, Asia's FIFA vice-president Prince Ali Bin Al-Hussein questioned the decision by the Gulf Cooperation Council (GCC) - comprising Bahrain, Kuwait, Oman, Qatar, Saudi Arabia, and the United Arab Emirates - to change the venue of the Gulf Cup from Iraq to Saudi Arabia, a move taken for security reasons but which prompted the Iraqis to boycott the event.
Prince Ali previously made clear he was also unhappy at the ban re-imposed by FIFA Iraq on in July, stopping them from playing home internationals. His stance seems to have had the desired effect as Asian Football Confederation President Sheikh Salman bin Ebrahim Al Khalifa has now pledged to look into whether the ban is justified.
"Both FIFA and AFC have agreed that the continental governing body will send a working team to assess the situation," Sheikh Salman told members at a FIFA-AFC regional development seminar in Manama. "The team will present a full report to FIFA which will help them in this issue."
But Sheikh Salman cautioned that the assessment team had conditions. "We are with you and will support whatever decisions you take for the benefit of Iraqi football but we will not tolerate interference from outsiders," he added.
Ominously at the weekend, a series of bomb blasts killed more than 25 people across Iraq in what was assumed to be another case of the sectarian violence that has claimed the lives of more than 6,000 in 2013 alone.
Contact the writer of this story at This email address is being protected from spambots. You need JavaScript enabled to view it.