Details

Category: Asia
Published on Friday, 18 October 2013 12:09
By Andrew Warshaw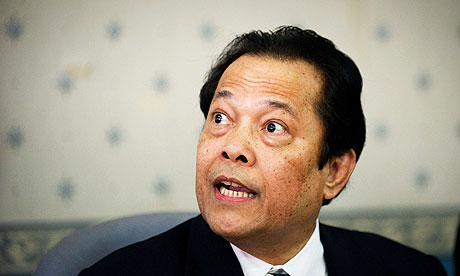 October 18 - Controversial Thai football boss Worawi Makudi has finally retained control of his federation after months of internal squabbling. Makudi was re-elected president of the Football Association of Thailand for another four years after defeating former national team boss Virach Chanpanich 42-28 in a secret ballot to earn his fourth straight term. Two votes were deemed invalid.
The election had been postponed because of a dispute among federation members, many of whom opposed Makudi's fight to hold on to his post. Although his term of office expired in mid-June, he always insisted he was not responsible for the impasse that prevented elections from being held and that he was simply following FIFA instructions to impose new reforms first.
Opponents claimed the reforms - which involved slashing the number of eligible voters by more than half to 72 - would play into the hands of Makudi but FIFA had threatened to kick Thailand out if the national federation did not amend its rules.
Makudi is a long-serving member of the FIFA executive committee but for years has been tainted with corruption allegations that he has always denied.
"I thank all those who voted for me and supported my re-election. I'm confident this election was transparent and I will start work tomorrow," he said. Virach took the opposite view by claiming the election was "not fair and not transparent."
Doubts about Makudi's suitability seem certain to linger, however. More than once he has had to defend himself against allegations of wrongdoing during his lengthy career in football administration.
Last May he was comprehensively beaten by Sheikh Salman Bin Ibrahim Al Khalifa in the race to become President of the Asian Football Confederation. Makudi received only seven votes after being deserted by many within his own south-east Asian bloc.
Contact the writer of this story at This email address is being protected from spambots. You need JavaScript enabled to view it.