Details

Category: Asia
Published on Thursday, 14 November 2013 12:42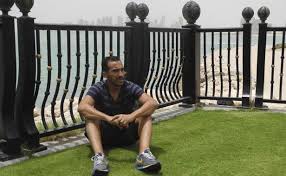 By Andrew Warshaw
November 14 - FIFA have been urged by football's main players' union FIFPro to come to the aid of a French-Algerian midfielder involved in a contract dispute in Qatar.
Zahir Belounis, a 33-year-old who moved to the Gulf state in 2007, has reportedly been denied an exit visa under the controversial Kafala system - widely used in the region - which prevents foreign employees from changing jobs or leaving the country without the express permission of the employer that sponsors them.
Earlier this week Belounis, who has been claiming unpaid wages against the El-Jaish club, said in an interview that only his family is keeping him from suicide, and described himself as a "destroyed" man.
FIFPro said on its website that it had asked FIFA President Sepp Blatter to intervene "in a desperate bid to unite the international football family and finally end the impasse."
FIFpro says the Belounis case is a violation of basic human rights and that although he apparently extended his contract until June 2015 he has not received his salary for two years.
But FIFA says it can't get involved because the player - who is reported to have sold most of his personal possessions - lodged his claim with a court in Qatar rather than with its own dispute resolution panel, which deals with such issues.
"FIFA has to date received no contractual claim from Belounis against his Qatari club as well as any accompanying documentation to support his case," FIFA said.
"FIFA fully respects basic human rights and also requests that its member associations and the hosts of its events fully respect them. FIFA was actually made aware of Zahir Belounis's predicament through the civil authorities in his home town.
"FIFA is unable to intervene in this matter given that Mr Belounis chose the option of contacting an ordinary court in Qatar."
Blatter has just returned from a courtesy visit to Qatar where he met the new Emir. The mistreatment of migrant workers, heavily reported in recent weeks and an embarrassment the 2022 World Cup organisers could do without, was among the topics the pair discussed.
Following the talks, Blatter told reporters Qatar was working on changes to its labour laws and would carry out a greater number of spot checks. The Qatar authorities have hired a local law firm to investigate the allagations.
French President Francois Hollande, who visited Qatar in June, is believed to have discussed Belounis's case with the then emir while earlier this month, Francois Crepeau, UN Special Rapporteur on the human rights of migrants, told a news conference in Doha that the kefala system should be scrapped and was "a source of abuse against migrants."
Contact the writer of this story at This email address is being protected from spambots. You need JavaScript enabled to view it.