Details

Category: Asia
Published on Friday, 14 February 2014 11:35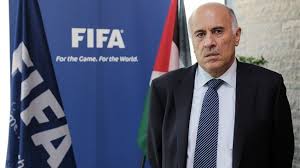 February 14 – Jibril Rajoub, chairman of the Palestinian Football Association, has said they will seek the expulsion of Israel from FIFA at the next FIFA Congress, and that he has the support of other Arab and North African nations.
Palestine has been demanding that Israeli security forces ease the travel restrictions on footballers and officials attending matches, and in some cases even training development sessions.
Last week Rajoub, speaking exclusively to Insideworldfootball, warned that he will call for Israel's expulsion from FIFA unless it shows greater willingness to ease the plight of his country's players and officials. This week he told reporters that the resolution to expel Israel will be made at the Congress in Brazil before the start of the World Cup in June.
"We will demand the expulsion of Israel from FIFA and the International Olympic Committee," Rajoub is reported as saying.
He says he has the support of Iran, Qatar, Oman, Jordan, Algiers and Tunisia already, and will seek further backing from Arab states during the March 14 meeting of Arab ministers responsible for youth.
He has also called for international recognition of the Palestinian Football Association as a national Palestinian organisation.
The latest statement from Rajoub indicates there will be no compromise on his part. FIFA recently set up a mediation Task Force and last week Rajoub met with his Israeli counterpart Avi Luzon and FIFA President Sepp Blatter in Zurich.
After the meeting Blatter announced he was pleased with the progress that had been made and that he will once again travel to the region in April in a bid to further improve relations between the two sides.
Blatter ideally wants Israel and Palestine to sign a formal co-operation agreement at or around the Congress. But Rajoub sees this possibility as being a long way off.
Rajoub told Insideworldfootball that Luzon's hands were tied by the Israeli government. "He said he wanted to help but that he couldn't and that the issue had to be discussed with the relevant Israeli authorities. In a way I can sympathise with this position but it was a clear message.
"I welcome Mr Blatter's initiative for ending the suffering of the Palestinian footballers and ending the restrictions imposed by the Israeli occupation. It's not just players. You are talking about instructors, consultants, anyone who wants to come to Palestine. They have to wait for hours to get permits."
But he was not encouraged that significant progress had been made and cited a recent AFC-organised club tournament in Palestine when, he claimed, even the AFC's own commissioner, who was from Sri Lanka, was detained for several hours.
"This is the way the Israelis are behaving and I see no sign that they have recharged their mental batteries," said Rajoub. "There is no change on the ground. We are a full FIFA member and have the same rights as all other members."
Contact the writer of this story at This email address is being protected from spambots. You need JavaScript enabled to view it.