Details

Category: Europe
Published on Wednesday, 06 March 2013 10:56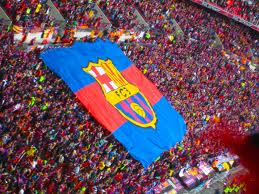 By Andrew Warshaw
March 6 - After more than a century without a commercial sponsor, Barcelona will break new ground next season by sporting the logo of Qatar Airways on its shirts – the starkest illustration yet of the club needing to embrace commercial reality as Qatar continues its drive to make inroads into European football.
Announcing the agreement at Barca's Nou Camp stadium, club president Sandro Rosell confirmed the airline would replace the Qatar Foundation charity as shirt sponsor from July in a deal worth $45m a season.
"The best way to deal with recession is to look for new resources," said Rosell. "We share lots of values, and one of them is the search for excellence. We have lots of supporters and Qatar have lots of customers. This deal is good for our club, good for our city and good for our country."
Qatar Airways CEO Akbar Al Baker added: "This strategic partnership with FC Barcelona promises to elevate our brands to a new platform on the global stage. It is a fitting match where we both share the same values - passionate about being the best at what we do. We are a global connector, flying passengers between cities around the world. Likewise, FC Barcelona is a global connector, bridging its fan base from around the globe with the world's best supported club."
The deal with Qatar Airways was always on the cards but is nevertheless significant in terms of Barca needing to boost revenues after years of resisting commercial tie-ups.
Before the start of last season, the Catalan giants signed a five-year €150m deal with Qatar Sports Investments, with Qatar Foundation carried on the club's shirts for two seasons, and a proposal for a commercial agreement to replace the charity for the remainder of the arrangement. Rosell's announcement confirms those plans.
Matching the world's most successful team with a market-leading airline is bound to upset hardcore traditionalists among Barca's huge fan base, especially with Spain in the grip of financial crisis. Barcelona is entirely owned by its supporters but 90% of the club's members voted in favour of allowing corporate sponsorship on the team's shirts for the first time since it was founded in 1889.
Rosell is understood to have earlier rejected a proposal from a betting company in order to ensure that any chosen sponsor fitted the philosophy of the club. The new deal will be football's most lucrative until Manchester United's partnership with Chevrolet commences in the 2014-15 season.
The Qatar Foundation succeeded Unicef but from next season Qatar Airways name will adorn Barca's first-team shirts at La Liga matches, Champions League games and friendlies.
"There is lots of competition and if we want to be at the very top we need resources. There are only a few ways of doing this and in the future TV rights may be less due to the economy," explained Rosell.
"The other way is through charging our members more or selling our facilities, which we do not want to do. We have to look for resources via marketing. This is the only way forward. That's what I'd say to the 10% (of club members) who voted against this move."
Contact the writer of this story at This email address is being protected from spambots. You need JavaScript enabled to view it.