Details

Category: Europe
Published on Friday, 12 April 2013 13:42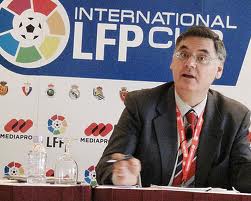 By Gareth Messenger
April 12 - The chief executive of La Liga, Francisco Roca, believes clubs in Spain will agree to sell their television rights colectively within the next three years as they look to slim down the gap in commercial sales revenues between their clubs, and also in comparison with international competition like the Premier League and the sales-revamped Bundesliga.
Last season, champions Real Madrid earned over €140m from TV income while Granada earned just €12m. In contrast, in the Premier League, Manchester City made £60.6m through television rights and relegated Wolverhampton Wanderers made an impressive £39.1m.
Currently, La Liga clubs sell their broadcast rights individually whereas other leagues sell the rights to TV income based on an equal share. At the Premier League, for example, 50% of the rights are shared out equally with 25% based on appearances on live TV, with the remaining 25% based on league position. International broadcast rights are also shared equally amongst the 20 top clubs in England.
Speaking at the Soccerex European Forum on Thursday, Roca said: "There are some things that we need to get better at."
"We are the only league in Europe, with our brothers from Portugal, that still sells divisional rights individually - it's not very advantageous for the Spanish League.
"We have two 'Super-Liga' teams dominating and with them making over 50% of the revenue we have a big problem to solve. We started to work on that three of four years ago. We have to solve the distribution system; 35 teams have signed a contract to redistribute the money. Barcelona and Real Madrid have agreed to lower their take to 34% from 42%. It is a step in the right direction. Once we get an overall agreement the rest will be easy. We will get the rights in-house within three years maximum," he added.
Barcelona, one of the 'Super-Liga' sides will pocket the same figure as Real Madrid this season of €140m, while Granada and Rayo Vallecano will earn just 8.5% of the top two's income - about €12m.
The league's CEO also admitted the Premier League has a structured system in place to aid relegated clubs financially. Even though he believes the huge gap between the two teams in a monetary sense is not solely based on TV rights, it is something La Liga cannot economically compete with.
He said: "We have a problem helping teams who are relegated. We don't have parachute payments like you do in the Premier League. If you get relegated in England, it is difficult. In Spain, it is catastrophic. You don't even get 10% of the revenue you used to have. We have doubled the amount, but we have to do more. Relegation is the main problem in terms of instability in Spanish football."
Contact the writer of this story at This email address is being protected from spambots. You need JavaScript enabled to view it. . Gareth Messenger is Editor-in-Chief, www.laliganews.tv, @G_Messenger