Details

Category: Europe
Published on Sunday, 21 April 2013 13:10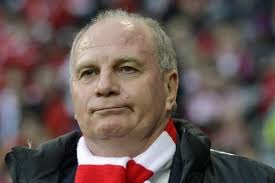 By Paul Nicholson
April 21 - Uli Hoeness, Bayern Munich's outspoken club president and supervisory board chairman, could face tax evasion charges in Germany after failing to declare a Swiss bank account. German public prosecutors are currently looking at his financial records to decide whether to proceed with a case against him.
Hoeness' private financial dealings now cast shadows over his public announcements.
Sylvia Schenk, Transparency International's senior advisor for sport, told
Frankfurter Allgemeine Zeitung
that Hoeness's credibility and reputation is now put into question. "The credibility of Hoeness is extremely shaken. It will certainly be very hard for him to get out there again," said Schenk.
"If he attacks Mr. Blatter and and asks that he cleans up his mass at FIFA, but at the same time he is evading German taxes, it is like throwing rocks in a glass house."
Hoeness has generally been quick to criticise football's governing bodies and their leaders. He famously cricitised FIFA president Sepp Blatter saying that he is not able to run FIFA and that if he (Hoeness) led Bayern the way Sepp Blatter has organised FIFA, Bayern would not exist any more.
And just last week he criticised Europe's governing body UEFA, for failing to "forcefully" implement its new Financial Fair Play rules. To date only Spanish side Malaga has faced a ban from UEFA competition. Referring to big-spending clubs like Paris St. Germain, AC Milan and Manchester City who represent serious competition for Bayern, perhaps unlike Malaga,he questioned how UEFA President Michel Platini would act, "especially with his friends in Paris, in Milan, in England at Manchester City,"
The Hoeness revelations were made in Germany's
Focus
magazine at the weekend. Hoeness said he had filed an amended tax return in January of this year. "I handed in an amended return at the finance ministry via my tax consultant in January 2013," Hoeness told Focus, saying that this was related "to an account of mine in Switzerland."
The senior public prosecutor in Munich, Ken Heidenreich, told
Focus
that his office had begun investigations and was now conducting an "analysis of the efficacy and the completeness of the amended return."
Contact the writer of this story This email address is being protected from spambots. You need JavaScript enabled to view it.