Details

Category: Europe
Published on Wednesday, 24 April 2013 12:23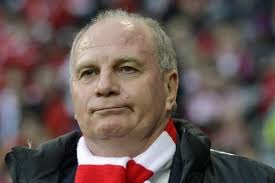 By Paul Nicholson
April 24 – German Chancellor Andrea Merkel has been dragged into the tax evasion scandal surrounding Bayern Munich president Uli Hoeness.
Having expressed her personal disappointment at Hoeness, the opposition parties in Germany are using the high profile case to accuse Merkel of shielding tax dodgers and football's highly paid tax dodgers in particular.
Merkel faces an election in September. The centre-left opposition politicians have continually accused her conservative government of letting tax cheats off the hook too easily.
Hoeness failed to declare a Swiss bank account to the German tax authorites. Public prosecutors are currently looking at his financial records to decide whether to proceed with a case against him.
It is emerging that Hoeness was temporarily arrested last
month during a search of his home and released on bail of €5m.
The amount of money Hoeness has stashed in Switzerland has not been released, or the amount of tax owed. Hoeness owns a successful sausage company, as well as fulfilling his football commitments. Reports are that Hoeness has already paid at least €3.2m in back taxes.
A German-Swiss tax accord would have allowed Hoeness to settle the matter anonymously with a one-off payment, but Germany's political opposition voted against the proposal.
Hoeness said he had filed an amended tax return in January of this year. "I handed in an amended return at the finance ministry via my tax consultant in January 2013,"
Hoeness told Sport Bild: "I have realised that I made a grave mistake, for which I am trying to at least partially make amends by voluntarily turning myself in."
"I want to clear the air. The law offers that possibility".
Hoeness has frequently been critical of FIFA and UEFA governance – especially regarding financial issues.
He cricitised FIFA president Sepp Blatter saying that he is not able to run FIFA and that if he (Hoeness) led Bayern the way Sepp Blatter has organised FIFA, Bayern would not exist any more. And just last week he criticised Europe's governing body UEFA, for failing to "forcefully" implement its new Financial Fair Play rules.
Contact the writer of this story at This email address is being protected from spambots. You need JavaScript enabled to view it.