Details

Category: Europe
Published on Tuesday, 14 May 2013 11:13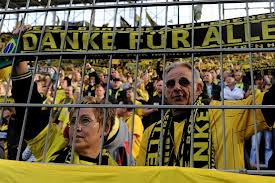 May 14 - Three-quarters of European football fans interviewed in a new survey want the option to stand while watching games.
The online company International Hattrick questioned more than 1,200 supporters from all over Europe with a vast majority saying standing areas - banned in international competitions and in some domestic leagues such as England but still allowed by the Bundesliga in Germany - should be permitted.
After the Hillsborough disaster, which changed English football in 1989 when 96 football fans tragically died, standing terraces were abolished. But the desire to stand has increased in recent years, partly to enhance atmosphere and partly as seat prices become prohibitive.
"The results of our survey were very surprising. It shows that many fans still yearn for the more traditional football atmosphere," says Jesper Andersen Mejer, Marketing Director at Hattrick, described as Europe's largest online manager game.
"Perhaps this should be given consideration when new football stadiums are planned," he said.
Contact the writer of this story at This email address is being protected from spambots. You need JavaScript enabled to view it.