Details

Category: Europe
Published on Wednesday, 15 May 2013 13:05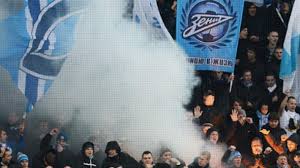 By Mark Baber
May 15 - The Court of Arbitration for Sport (CAS) upheld the award of a 3-0 win to Dynamo Moscow, imposed by the Football Union of Russia (FUR), after the game between Dynamo and Zenit was abandoned after Dynamo's goalkeeper was hit by a flare thrown by Zenit fans. The panel also rejected Zenit's requests to sanction Dynamo Moscow.
The CAS Panel ruling [http://www.tas-cas.org/en/infogenerales.asp/4-3-6726-1092-4-1-1/5-0-1092-15-1-1/] deals with the urgent issue of the award of the game, as the Russian season is reaching its climax with Zenit now 5 points behind leader CSKA Moscow with two games to play.
During the match in question, on 17 November 2012 in the 37th minute, Dynamo's keeper Anton Shunin was hit by a firecracker, suffering burns to his cornea in both eyes and some loss of hearing. The referee halted the match and the FUR imposed sanctions on Zenit, after finding Zenit fans responsible for the incident.
CAS is yet to rule on the fine of RUB 500,000 ($38,000) and on a Zenit claim for compensation after being ordered to play two home matches without spectators.
Zenit's case to CAS was, according to their official website, based on the failure to identify the flare thrower or to prove that it was thrown by a Zenit fan. Fury at the FUR decision had been a motivating factor in attempts to revive a cross-border Soviet-style league.
The ruling is a major blow to the Gazprom owned side in their efforts to retain their title.
Contact the writer of this story at This email address is being protected from spambots. You need JavaScript enabled to view it.