Details

Category: Europe
Published on Monday, 20 May 2013 10:17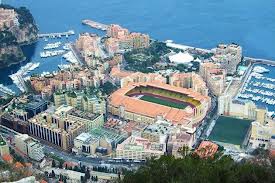 By Andrew Warshaw, chief correspondent
May 20 - Monaco are planning to take the French football authorities to court after being refused permission to rejoin the country's top flight in a seething row over tax status.
Although a self-contained adjacent principality, Monaco have been playing in the French league for nearly a century and were Champions League runners up in 2004.

But they have suddenly been told, after winning promotion, that they are no longer wanted unless they fall into line with the rest of the domestic game.
Monaco were outraged in March when France's Ligue Professionelle de Football (LFP) voted to exclude them unless they relocated their headquarters to France by June, 2014, to comply with the country's strict fiscal rules.
When they protested, the French Football Federation stepped in by proposing Monaco instead pay €200 million to remain part of the French league if they wanted to remain based outside the country, an idea that was supposed to be a compromise solution but which had the club crying foul even more loudly.
At the root of the argument is French ill-feeling that Monaco has been using its status as a tax haven by signing up a raft of foreign players on virtually tax-free salaries: players who, if they joined other clubs in the French league, would be subject to the same severe laws as French players.
France has a 75% income tax rate on high earners and there has long been festering resentment that Monaco have an unfair advantage over other French sides because of their privileged position. Under their Russian billionaire owner Dmitry Rybolovlev, Les Monegasques have far greater purchasing power than anyone else in the league other than Qatari-backed Paris Saint-Germain.
But the club are challenging both the order to move their headquarters to France and the "outrageous" counter-demand for €200 million for their base to remain in Monaco. Since being founded in 1924, Monaco have won seven French titles and were defeated by Jose Mourinho's Porto in the Champions League final nine years ago.
"ASM FC [Monaco], after consultation with its legal counsel, has decided that it has no other choice but to bring legal action in order to obtain a judicial resolution of the dispute," the club said in a statement.
"As part of this legal action, ASM FC will be seeking the annulment of the LFP's [French League's] decision of 21 March requiring the club to establish its headquarters in France, as well as a claim for damages from the LFP as compensation for financial and commercial losses suffered as a result of that decision. The position of the club is very clear: ASM FC considers that such a demand is not only outrageous but also totally unacceptable."
"The club intends to show that the decision of the LFP imposed on AS Monaco, forcing it to move its headquarters to France, violates several fundamental principles of French and European law, notably the principle of free movement, free competition, free access to sporting competitions, and also the Franco-Monégasque tax convention signed on the 18 February 1963."
UEFA president Michel Platini, a strong advocate of financial fair play, nevertheless expressed surprise at the ultimatum given to Monaco. "I find it a little difficult to understand," Platini said after last week's Europa League final. "It's as if French football always liked Monaco - so long as they didn't win."
Contact the writer of this story at This email address is being protected from spambots. You need JavaScript enabled to view it.