Details

Category: Europe
Published on Thursday, 23 May 2013 10:33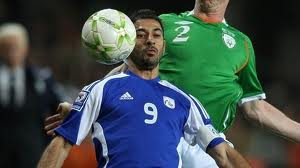 EXCLUSIVE: By Andrew Warshaw
May 23 - Turkish Cypriot football officials insist that a landmark agreement aimed at unifying football on the politically divided island is not dead in the water and that a further meeting with the Greek side will be held next month.
Talks on an historic deal have stalled in recent weeks as both sides grapple with the wording of a firm accord.
Earlier this year the leaders of the respective federations announced they were closer than ever to burying their differences after decades of separation and mistrust.
In what was described by both sides as a crucial breakthrough that could pave the way for ultimate integration, Cyprus Football Association president Costakis Koutsokoumnis met with his opposite number, Cyprus Turkish Football Association leader Hasan Sertoglu to set out a roadmap for a deal that will have ramifications far beyond fans on both sides of the island.
The meeting, the first ever at the headquarters of the unofficial CTFA close to the United Nations-controlled buffer zone, was attended by observers of both FIFA and UEFA and followed a reciprocal visit to the CFA - FIFA members since 1948 - by Sertoglu.
The talks ended with the announcement that the two sides would visit FIFA headquarters in March to try and finalise a deal. No such meeting took place, calling into question whether an agreement will actually be reached at all on what is a hugely complex issue with entrenched positions on both sides.
Turkish Cypriot officials recently visited London for an annual gathering with the large Turkish Cypriot community based in the north of the capital. While they were here they stressed that negotiations to unify football on the Mediterranean island were still ongoing.
"Discussions will start again in the second week of June to evaluate the final points of an agreement," Orcun Kamali, a member of the CTFA's Executive Committee in charge of International Relations, told InsideWorldFootball.
"Because of the economic situation in Cyprus, plus football elections, we had to postpone but the intention is still to finalise a draft to take to FIFA in Zurich as soon as possible.
"I hope discussions can be completed with the Greek side in June - that is certainly what we want. I can't speak for the other side but they must surely have the same will as us, otherwise they would not have come together with us in the first place."
Turkish Cypriot clubs played together in an all-Island league until 1955 when they were forced to go their separate ways. The island has been divided politically since the 1974 Turkish military intervention and although United Nations efforts at re-unification are still ongoing, they have so far failed to yield results.
Contact the writer of this story at This email address is being protected from spambots. You need JavaScript enabled to view it.