Details

Category: Europe
Published on Friday, 24 May 2013 13:11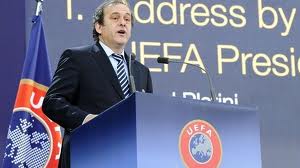 By Andrew Warshaw, chief correspondent
May 24 - UEFA president Michel Platini today stepped up his campaign to counter match-fixing by calling once again on governments and politicians to help tackle what he believes is the biggest crisis facing football.
Opening the UEFA Congress in London, Platini said match-fixers were not just "petty criminals" but often linked with mafia groups – and that without a concerted effort, the problem would never be eradicated.
"We are protecting our sport from this scourge with all the means at our disposal, but, unfortunately, that is sometimes not enough," Platini told delegates from UEFA's 53 nations. "We are not dealing with petty criminals who are looking to make ends meet.
"It would seem that we are, in some instances, dealing with mafia-type organisations that are using certain matches to launder money, tarnishing our sport in the process. We can take reassurance from the fact that this is far from being a widespread phenomenon. However, just one fixed match is one match too many."
"Six years ago now, in response to this problem of betting, corruption and match-fixing, as well as the problems of hooliganism and doping, I called for the establishment of a European sports police force.
"There has been no response to those calls so far. Given the absence of any reaction and the lack of awareness on the part of politicians, I renew that call today. And if, by misfortune, this call again falls on deaf ears, I ask that each country, at the very least, adopts specific provisions of national legislation addressing the issue of match-fixing, in order to finally have the legal tools necessary to rigorously punish these cheats."
Platini said only 10 of UEFA's 53 countries had legislation that outlaws match-fixing. "That's not many, and not enough," he said.
Turning to Financial Fair Play, Platini told delegates that bringing in spending controls had to happen "in order to prevent the current system from collapsing and stop the bubble from bursting."
Delegates were later told that debts among Europe's clubs were set to drop by around €400 million Euros this year which appeared to prove the new rules were working.
"UEFA had a duty to step in, and it will be up to independent bodies to punish the few clubs that have not realised that football can no longer live above the rules," said Platini.
Before Platini's speech, the floor was given to FIFA President Sepp Blatter who, in a keynote speech, talked up FIFA's reform process due to be finalised in Mauritius next week.
With UEFA in opposition to some of the reforms on the table in Mauritius - there is even talk of them voting as a bloc against the package - it was a typically canny ploy by Blatter to give FIFA the moral high ground ahead of its own Congress.
"We have had some problems inside FIFA, starting in 2010, and in 2011 we had not only the idea but the will for reform," he said. "We are not yet finished but we are nearby and we need your help because in the next congress in Mauritius next week we will finish this part of our reform"
Blatter will also have raised eyebrows among his audience when he switched subject and spoke about the haves and have-nots in world football. Blatter recently supported the principle of Asia acquiring a greater number of World Cup places and hinted that UEFA should be the ones to give ground.
Europe, he said, needed to be aware that "those who have more should share with those who have less: this is the principle of our game in the development programmes."
But in terms of what Blatter described, not for the first time, as the "devils in our society" - cheating, corruption, doping and racism - it appeared there was a unified approach as he congratulated UEFA on its own measures to combat such ills.
Contact the writer of this story at This email address is being protected from spambots. You need JavaScript enabled to view it.