Details

Category: Europe
Published on Wednesday, 05 June 2013 11:59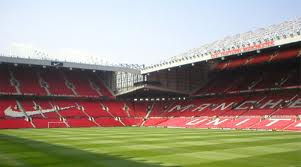 By Tom Parsons
June 5 - Manchester United have begun work on their Old Trafford pitch after plans were announced to adopt a part-synthetic playing surface at the home of the 2012/13 Premier League champions.
The new surface, which will cost the club about £800,000 to install, is similar to the Wembley Desso surface installed at Wembley in 2010 after several years of problems with the grass at England's historic home following its reopening in 2007.
Wembley's pitch was re-laid 10 times between 2007 and 2010, but since the Desso Grassmaster hybrid grass has been installed the surface has improved considerably, prompting Manchester United officials to take action on a wearing Old Trafford pitch.
According to the designers: "The artificial grass fibres are injected 20 centimetres (7.9 in) deep, and cover about 3% of the surface. While the grass is growing, the roots intertwine with the artificial fibres. This anchors the field to create a solid, even structure with good drainage and 'playing comfort'."
Old Trafford's playing surface was under scrutiny during last season's campaign following complaints about the poor nature of the pitch. Sir Alex Ferguson himself said the pitch had "collapsed" due to heavy rainfall during December. Despite the best efforts of the groundsmen throughout the rest of the season, a decision was made to relay the pitch for the first time since 2003.
Officials at Old Trafford caused problems with 2015 Rugby World Cup organisers back in April with their decision to pull out of hosting games at the competition due to likely damage of the pitch throughout the tournament. Organisers approached Manchester City in a last minute effort to be able to host games in Manchester.
Currently nine Premier League sides have the Desso surface installed at their grounds, with many clubs seeing it as an economic decision – it is cheaper to install the surface rather than relaying pitches ever year.
Football's love affair with artificial surfaces began in the 1980s at QPR's Loftus Road which became notorious for its plastic pitch, which was removed in 1988, seven years after its installation. Players complained that the 'give' in the pitches meant an increased chance of injury through higher impact on the surface, and so the push towards artificial pitches was placed on the back burner.
Since then, advancements in technology have allowed designers to develop pitches/artificial grass that can be used to hold matches that seem as realistic as grass. Many stadiums worldwide have adopted the new forms of artificial surface - especially in countries with extreme climate conditions where the growing of grass can be problematic.
Contact the writer of this story This email address is being protected from spambots. You need JavaScript enabled to view it.