Details

Category: Europe
Published on Thursday, 06 June 2013 11:36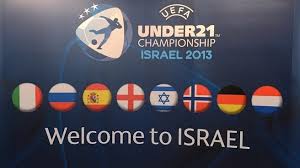 By Paul Nicholson
June 6 - The UEFA U21 Championship kicked off in Israel last night with two opening matches played in front of full stadiums.
Pre-tournament protests against the decision by UEFA to host the championships in Israel were left behind as the hosts played Norway and sold out the 14,000 Netanya stadium, while 12,000 fans went to watch England vs. Italy in Bloomfield Stadium.
Israel's other two Group A games - in Tel Aviv and Jerusalem - have also proved popular, with more than 18,500 tickets already sold for the concluding game against England at the Teddy Stadium.
On the eve of the tournament UEFA announced that 100,000 tickets were sold before the first match. In comparison, the 2011 UEFA U21 Championship held in Denmark sold 50,000 tickets throughout the whole tournament.
Together with more than 70,000 invitation tickets (UEFA, sponsors etc.) and tickets that will be sold in the next 2 weeks, it looks like most matches will be played in full stadiums. There are 300,000 tickets in total available. Tickets are priced from just ILS 40 (€8) for adults.
After the home country's matches, the top selling tie has been Germany vs Spain, while ticket sales have been going well for Russian matches.
Local ticket sales promotion for the first time has for a major tournament has embraced social media and it is the power of this media that is making a big difference both to local awareness and attendance.
The Israeli Football Association (IFA) has invested heavily in its social media activity, promotions and advertising to promote the tournament. Facebook ads campaigns and viral youtube clips in the weeks leading to the tournament boosted the U21 Championship buzz and exposure on the local social networks.
Also for the first time in football, the IFA has made use of a Facebook ticketing application. The SitNearMe application, developed by Evento Social Promotion, enables fans to see where their friends are sitting and to buy tickets for the game.
Evento's marketing director, Yair Scher said: "In the last two years the IFA has constantly worked to professionalize and improve its social media activities and they are looking into cutting edge tools and practices."
Contact the writer of this story at This email address is being protected from spambots. You need JavaScript enabled to view it.