Details

Category: Europe
Published on Monday, 10 June 2013 09:51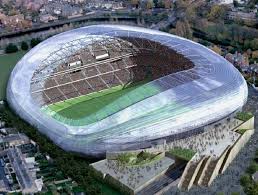 By Andrew Warshaw
June 9 - UEFA have stepped in to help the Football Association of Ireland meet its debt repayments for the Aviva stadium in Dublin.
The venue, which opened in May 2010 on the site of the old Lansdowne Road, is Ireland's only UEFA elite stadium and hosted the Europa League final two years ago.
Unlike its predecessor which was for rugby use, the stadium is controlled jointly by both the round and oval-ball game . The Aviva Group signed a 10-year deal for naming rights in 2009.
Exactly how bad the debts were has not been revealed but UEFA has confirmed it has advanced a "solidarity payment", understood to amount to several million euros from its development fund.
Finance director Josef Koller was quoted as saying: "It is a really difficult situation, because of the economic crisis, and we said 'Okay, we can advance certain solidarity payments'."
The agreement was reached after a meeting between Koller and Danske Bank, the FAI's main creditor, at which FAI chief executive John Delaney was present. 

"Danske felt very comfortable to have somebody from UEFA there, especially the finance director. It was really worthwhile to explain to Danske how important this is for us," Koller said.
Contact the writer of this story at This email address is being protected from spambots. You need JavaScript enabled to view it.