Details

Category: Europe
Published on Thursday, 20 June 2013 13:19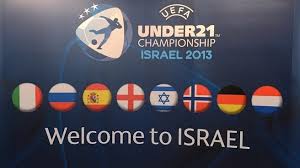 By Andrew Warshaw
June 20 - A relieved Michel Platini has heaped praise on Israel following the European Under-21 championships that ended with Spain beating Italy 4-2 to retain the title.
Before the biennial event began, UEFA had come under increasing pressure from pro-Palestinian activists to move the tournament elsewhere in retaliation for Israel controlling the borders around Palestinian territories, with Palestinian athletes being victimised including restriction of movement and vital equipment being withheld.
The 13-day tournament was the most significant international sporting event in Israel since the 1968 Paralympics and was held amid tight security. But the event itself passed off with no political violence and Platini said all that vindicated UEFA's decision to stand firm.
"The stadiums were wonderful and well organised, the pitches excellent and the atmosphere in the stadiums was great with many families and young children attending. That is exactly the type of tournament that I like to see," Platini told a news conference. "I would like there to be a world where one can play football peacefully, even though I know the local context."
Israel cites security concerns as the reason for imposing travel restrictions but FIFA president Sepp Blatter said last month at FIFA's congress in Mauritius that, with Palestine an official FIFA member, he would personally intervene to try to ensure Israel eases its heavy-handedness.
It's a debate with a number of arguments on both sides and, for his part, Platini made it clear Israel had the same rights as the rest of the 53 UEFA member nations despite a rise in pro-Palestinian demonstrations - including at the UEFA Congress in London last month.
"I would prefer people not to take football hostage," he said. "We had problems with people from Palestine who didn't want us to come. It's their right to demonstrate but we also think it's our right to do what is good for football and not for politics.
"I want children in Israel to play football as they do in other countries and I will not be dragged into political issues because an organisation such as ours should focus on the development of football and leave politics to the politicians."
Contact the writer of this story at This email address is being protected from spambots. You need JavaScript enabled to view it.