Details

Category: Europe
Published on Friday, 05 July 2013 11:30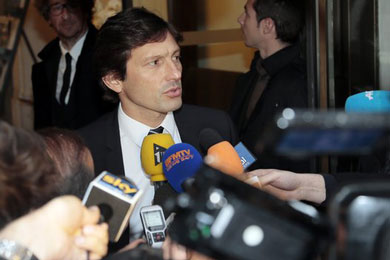 By Andrew Warshaw
July 5 - The nine-month ban imposed on Paris Saint-Germain's Brazilian sporting director Leonardo for barging into a referee last season has been extended by five months and will now run until June 30, 2014, ruling him out of next season entirely, following a French Football Federation appeals hearing.
The decision means that Leonardo, 43, will be unable to carry out any official duties until the start of the 2014-15 Ligue 1 campaign, another blow to the fortunes of the Qatari-owned big-spenders who were forced to settle on Laurent Blanc as their new coach after missing out on several other targets to replace Real Madrid-bound Carlo Ancelotti.
Leonardo, who won the World Cup with Brazil in 1994, was found guilty after TV pictures showed him shoulder-charging referee Alexandre Castrol following after PSG's 1-1 draw at home to Valenciennes on May 5. He was reportedly enraged by Castro's decision to show a red card to Thiago Silva but claimed he had been pushed into the referee by one of the match delegates.
The former AC Milan and Inter Milan coach appealed against the initial sentence – which PSG had branded as "unjustified and extremely harsh" -- but it backfired as a seven-member FFF appeals panel went beyond the maximum one-year ban for "deliberate jostling of a match official" stipulated in the rules. Leonardo would have been due back in February but will now miss the entire season, severely disrupting PSG's planning.
The French champions also go into the new season with a three-point deduction over the same issue, hardly the best start for the new regime under Blanc.
Contact the writer of this story at This email address is being protected from spambots. You need JavaScript enabled to view it.