Details

Category: Europe
Published on Friday, 12 July 2013 12:34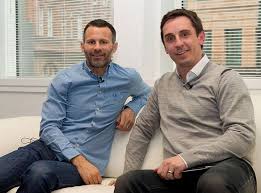 By Mark Baber
July 12 - Ryan Giggs and Gary Neville have announced their GG Hospitality company will be launching hotel and café brands with the intention of building a hospitality empire, both UK and overseas, to enable fans to sleep, drink and eat football.
Giggs said "We have lived and breathed every element of this for a considerable time now and have been involved in every detail, every step of the way. We've stayed in lots of hotels as footballers and often felt that we could do a better job."
The project is set to kick off with 'Café Football,' which will be opening its first outlet in Westfield, London in November, followed by the first 'Hotel Football' which is scheduled to open next to Old Trafford in October 2014.
Those involved in the venture include Stuart Procter, former general manager of London's Stafford Hotel, chef Michael Wignall, finance director Michael Harding, Brendan Fyldes as executive chef of Café Football and Stewart Davies, currently general manager of the Doubletree by Hilton Manchester. There is Singaporean investment in the company from Ho Kiam Kheong and Andy Yun whose experience includes heading up Manchester United Food and Beverage (Asia).
Consultants on the project include property consultancy Colliers International.
Hotel Football is expected to cost £20m to develop and will feature a five-a-side football pitch on the roof, but there will apparently be no football shirts and references to football in the design of the café and hotel will be subtle.
Despite the strong Manchester United connections of those involved in the project, the branding will be club-neutral and there are plans to set up outlets in Liverpool and Birmingham as well as to expand into Asia.
Contact the writer of this story at This email address is being protected from spambots. You need JavaScript enabled to view it.