Details

Category: Europe
Published on Monday, 15 July 2013 11:18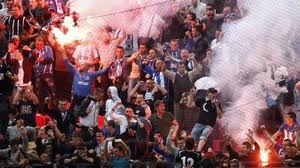 July 15 – The European Professional Football Leagues association (EPFL), which represents 744 clubs in 29 countries, is reinforcing its relationship with the Council of Europe in the fight against fan violence.
At a meeting in Strasbourg, the Council's Standing Committee of the Convention on Spectator Violence voted unanimously to extend observer status to the EPFL.
"The Council's Standing Committee on Spectator Violence is the key platform of intergovernmental co-operation on safety and security issues in sport," said EPFL CEO Emanuel Macedo de Medeiros.
"We are glad to render our contribution to further develop all necessary measures for a football free from violence and disorders in straight cooperation with Governments, police forces' representatives, as well as other observers, such as FIFA, UEFA and the European Commission."
Jo Vanhecke, Chairman of the committee, added: "EPFL is via their member leagues responsible for an enormous amount of matches throughout Europe. I believe that our joint force will help to improve our strategies and will be an additional way of spreading European good practice in this field."
Contact the writer of this story at This email address is being protected from spambots. You need JavaScript enabled to view it.